How To Make a Festive Cheeseball Tree
Take a regular holiday cheeseball to the next level and made it spectacular: a cheeseball Christmas tree, the perfect centerpiece to your holiday cheeseboard.
We're sorry, there seems to be an issue playing this video. Please refresh the page or try again in a moment. If you continue to have issues, please contact us here.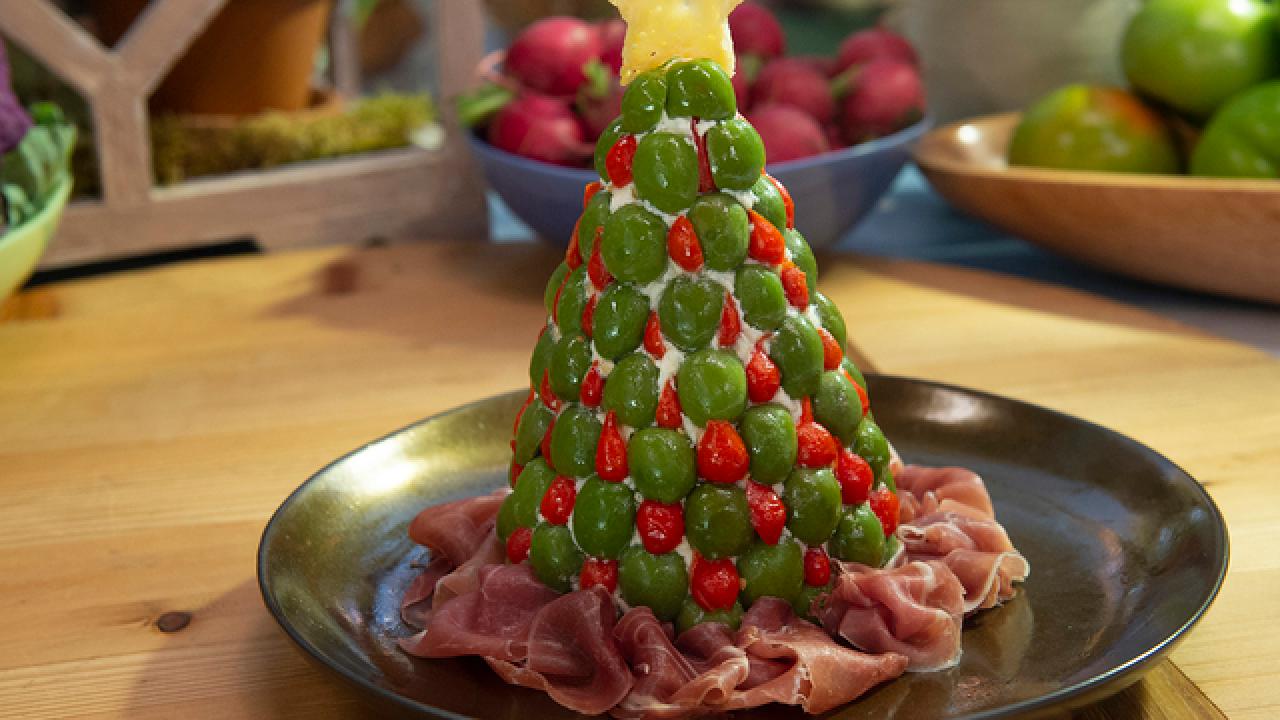 To make this festive tree, you need to start with a solid base -- so use your favorite recipe for a firm cheeseball. When you're ready to shape it, the mixture should be chilled but not too cold, so it's easy to work with. Turn the cheese mixture out onto a large piece of plastic wrap and fold the wrap up around the cheese so that it covers the ball. Next, work with your hands (on the outside of the plastic wrap) to shape it into a cone.
Once your tree has taken shape, it's time to add the detail. Remove the plastic wrap and cover it with alternating rows of halved green olives and halved red pickled peppers (such as sweet Peruvian peppers). The pieces should be similar in size and fit with the scale of the cone. Start with the green row and then the red, repeating the pattern row by row until you reach the top of the tree. This step is a great way to get the kids involved. Once that's done, you can chill it out in the fridge until your guests arrive. Just remember to take it out about an hour before they come so it can soften a bit, which makes it easier to serve.
Your tree is mostly finished, but the most fabulous Christmas trees always have a skirt. Making one couldn't be any easier than adding prosciutto. Drape thinly sliced prosciutto all around the bottom of the tree in a wavy pattern.
Finally, we need a tasty star topper. The best way to create one is to make a Parmesan frico -- a thin crispy cracker-like cheese snack. Frico are typically round, but this time we used a star-shaped cookie cutter to form ours. Place a small metal star-shaped cookie cutter on a parchment-lined baking sheet. A silicone baking mat is also good if you don't have parchment. Fill the cutter with a thin layer of grated Parmesan (or finely shredded Parmesan if that's what you have on hand). Preheat the oven to 350 degrees F. Bake just until the cheese is melted, 3 to 4 minutes. Allow it to cool inside the cutter. Once cooled, remove the star and place it at the top of the cheeseball tree. Now you're ready to serve your show-stopping tree with your favorite crackers and fruit.