These Thanksgiving recipes are destined for the best-dressed-sides list.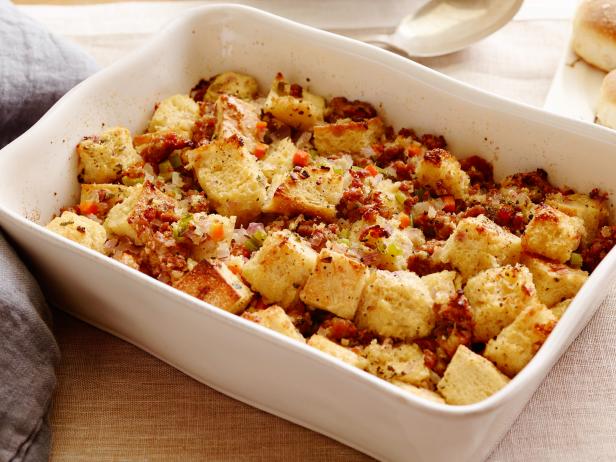 COUNTRY BREAD AND SAGE DRESSINGBobby FlayBoy Meets Grill/Thanksgiving on the GrillFood NetworkHot Italian Sausage, Unsalted Butter, Red Onion, Celery, Carrot, Garlic, Sage Leaves, Egg, StaleCountry Bread, Salt, Pepper, Chicken Stock,COUNTRY BREAD AND SAGE DRESSING Bobby Flay Boy Meets Grill/Thanksgiving on the Grill Food Network Hot Italian Sausage, Unsalted Butter, Red Onion, Celery, Carrot, Garlic, Sage Leaves, Egg, Stale Country Bread, Salt, Pepper, Chicken Stock
Matt Armendariz, 2014, Television Food Network, G.P. All Rights Reserved
The great Thanksgiving debate of dressing versus stuffing generates some pretty fierce opinions — not only about which reigns supreme, but also about what the difference is. Dressing and stuffing are often made of similar ingredients — a base of bread, vegetables such as celery and onion, plus herbs such as sage and thyme — but, culinarily speaking, there's a distinct difference.
"Stuffing is usually stuffed into the bird. Dressing is made on the side and roasted in a pan," says Chef Frank Proto, a seasoned restaurant pro who also serves as the director of culinary operations at the Institute of Culinary Education in New York.
What you call it can also boil down to regionality — even if it's baked outside the bird, Northerners call it stuffing, while Southerners call it all dressing. No matter how you define it, dressing is a critical component of any Thanksgiving feast, and it lends itself to flavor combinations both classic and creative. Here's how to make your dressing Thanksgiving's best-dressed side.
Because dressing is baked outside the bird, it tends to have a drier consistency. Chef Sean Fogarty of Steenbock's on Orchard in Madison, Wisconsin, remedies that by adding plenty of fat, like butter or turkey drippings, and chicken stock to the bread-and-vegetable mix. "I always mix the ingredients in with my hands to get the best feel for how much liquid the bread has absorbed," he says. Try Bobby Flay's classic Sage Dressing (pictured), which calls for butter and chicken stock (or turkey stock) to keep it moist. Besides using plenty of vegetable or chicken stock, you can also incorporate white wine into the liquid mix, as in this Oyster Sausage Herb Dressing.
When it comes to bread, Fogarty opts for sourdough. It adds another level of savory flavor, and once baked, the top and edge pieces crisp up, providing a crunchy textural counterpoint to the fluffy interior. Try Bobby Flay's Sourdough, Wild Mushroom, and Bacon Dressing, in which slab bacon and a trio of shiitake, oyster and cremini mushrooms add up to a supremely satisfying bite. Focaccia also adds heft and texture, as in the butternut-squash-studded Sausage and Kale Thanksgiving Dressing.
Cornbread is another classic bread option for dressing, particularly among Southern-leaning recipes, though most recipes still incorporate another bread with it. For Grandma Lizzie's Cornbread Dressing, Trisha Yearwood calls for buttermilk cornbread, white bread and crushed salt crackers for layered texture. Ree Drummond relies on cubes of both French bread and skillet cornbread for her Cornbread Dressing, while Damaris Phillips opts for a duo of croutons — some store-bought and some made from homemade cornbread — for her take on Cornbread Dressing.
But the beauty of dressing is that you can take inspiration from seasonal and regional ingredients. "A fun outside-the-box option is brioche and ground cherries, which are a favorite farmers market fruit here in Madison," says Fogarty. "The two make a sweeter combo, but the flavor is unbeatable." Try Cranberry Apricot Dressing, in which dried cranberries and apricots lend a pop of texture and sweetness.
You can also tailor dressing add-ins to reflect taste and dietary preferences. "If you want a vegan or vegetarian option, roasted root vegetables with tomato paste, vegetable stock and rosemary is a great option as well," Fogarty says. For a vegetarian option, try Fig and Root Vegetable Dressing and sub vegetable stock for the chicken stock.