Good Cover: Try Cheese on Your Pie
By:
Food Network Magazine
Apple pie and cheddar cheese have been paired up forever, but we're not entirely sure why cheddar has been the exclusive partner. Apple pie tastes great with almost any cheese melted on top — it's like a cheese course and dessert in one. Try one of the types shown here: Just put a thin slice on a piece of pie and melt in the microwave or under the broiler.
Clockwise from bottom left: Blue Cheese, caraway Havarti, Gruyere, brie and aged Gouda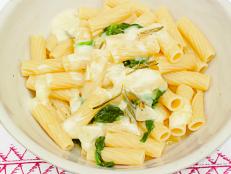 Trying to find healthy and delicious recipes? Food Network makes that easy with their collection of low fat, low calorie and low carb recipes.