3 of a Kind: Jersey Pork Roll Sandwich
Find the best Taylor pork rolls at Court Street Grocers, Split Bread and Blue Duck.
If you don't know what pork roll is, you're clearly not from New Jersey. Known regionally by brand names such as Taylor ham, Case or Trenton, it's a cured and smoked processed meat that tastes like a spicy and salty version of SPAM (though it's sold in a roll, rather than a can).
It's also the main ingredient in a signature breakfast sandwich along with American cheese and a fried egg. Outside Jersey, it's long been popular in parts of Philadelphia and Delaware, but today the sandwich is evolving and expanding geographically, thanks to chefs who share a sense of nostalgia for this classic diner fare.
Andrew Swallow used to eat a pork roll sandwich several times a week growing up in New Jersey. Today he's a CIA-trained chef based in San Francisco with a string of successful restaurants. So perhaps it's no surprise that he has taken the combination to a new level with his Jersey breakfast sandwich.
Swallow wanted his version to taste like an improvement on the classic, so he opted for Case, which is saltier than Taylor ham, serving it on a special Cake Box bakery toasted bun. He calls it a "double decker," because his version has two fried eggs rather than one. He adds American cheese, then creates extra richness with aioli and sweet ketchup, which he says is key to balance the saltiness of the pork roll.
At The Blue Duck, pork roll is blended with a house mix of chuck, brisket and rib fat to form the pork roll burger, topped with Cooper American cheese, an egg and Sriracha mayonnaise, all served on a Martin's potato roll. Not only the top-selling burger, it also won the People's Choice Award in the Philadelphia Burger Brawl.
According to chef and co-owner Kristopher Serviss, the pork roll is what makes the burger so delectable, thanks to its smokiness and saltiness, which is offset by the creamy combination of spicy mayo and cheese.
At two of Court Street Grocers' three New York locations — specifically, Carroll Gardens and Greenwich Village — you'll find several breakfast sandwiches, each featuring soft scrambled eggs.
While most of the sandwiches are served on ciabatta and have fancy ingredients like arugula or gourmet bacon, the pork roll is served as the diners intended, in the classic style with scrambled eggs, American cheese and Taylor ham on a soft Martin's potato roll.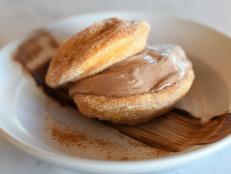 This classic summer treat gets tricked out with everything from bourbon to Spam at restaurants across the country.