New York State of Mind on The Next Iron Chef — Critical Moments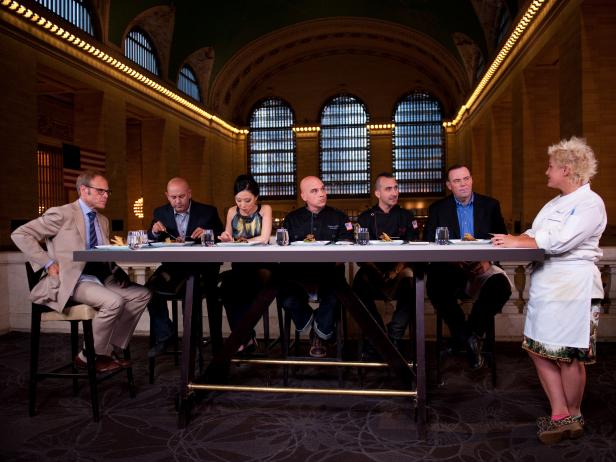 NIC4 Episode 5 Chairman's Challenge "Story Telling"
Rival-Chef Anne Burrell preseting her dish to Host Alton Brown, Judge Simon Majumdar, Judge Judy Joo, Judge Iron Chef Michael Symon, Guest Judge Iron Chef Marc Forgione and Guest Judge Chef Charlie Palmer in Episode 5 Chairman's Challenge "Story Telling" as seen on Food Network Next Iron Chef Season 4.
Edward Chen/Creel Films, 2011, Television Food Network, G.P.
There was a tangible change in atmosphere as we entered the second half of the competition.
In part, it was because our location moved from laid-back Los Angeles to the electrifying buzz of New York City. Four of the remaining chefs call this amazing city home, while the two others were obviously determined to represent their West Coast towns. Where once there had been jollity and camaraderie, now there was tension and nerves set on edge. One mistake, one poor dish or one unwise choice in presentation, and the chance of a lifetime could be over.
If you are going to prove you can cook on a grand scale, where better to do so than in Grand Central Station, one of the most beautiful buildings in New York? This time, the three regular judges were joined by restaurateur Charlie Palmer and the winner of NIC Season Three, Iron Chef Marc Forgione. Their role was to add sage words to our own comments about the dishes presented by each chef in response to the Chairman's request to prove themselves as great storytellers. It may seem like an odd task for a cook, but the current Iron Chefs will tell you that many battles have been won or lost based on how the dishes have been presented to judges in Kitchen Stadium.
In case any of you are wondering, "bloody gorgeous" is a technical term used in the UK for something so good you want to marry it and take it home to meet your mother. Chef Burrell's dish was just that, "bloody gorgeous." She was really coming out of her shell as the competition progressed and, while some judges questioned the fact that she did not use squab rather than Cornish game hens to tell her tale of Central Park, she told it with such gusto that she definitely earned her first win of the competition.
Chef Chiarello also tells a great story. This time he wove a swirling yarn that took us from Ancient Rome, via Britain, to New York City. It gave him all the excuses he needed to include rabbit and barley in an unlikely story about the Statue of Liberty. If we had not cut him off mid-flow, Chef Chiarello would probably still be talking. Fortunately for him, his dish was good enough that he survived to cook another day.
Chef Zakarian had been challenged earlier in the competition for not playing by the rules. It had almost cost him dearly then, and it almost did now as he offered up a tenuous link between French-style scrambled eggs and Times Square. It would have been easy to cast him in the Secret Ingredient Showdown if it had not been for one indisputable fact: his cooking was, quite simply, breathtaking.
Chef Guarnaschelli produced a dish that was, to me at least, easily her worst of the competition to date. Her main ingredient of pork was chewy, her potatoes lacked texture and, while the scents emanating from a bag of bread and roasted peanut shells were certainly evocative of New York City, they detracted from rather than enhanced the dish as a whole.
Edward Chen/Creel Films, 2011, Television Food Network, G.P.
There was little argument that Chef Samuelsson should take one of the places in the bottom two. His dish was as confused as his story and while both smoked salmon and Wagyu beef were perfectly executed, we all felt that they did not belong on the same plate.
It was interesting to find out that Chef Falkner was down in the mix as well. I really liked her German-inspired dish and had fewer problems than my colleagues did with her linear plating. Their argument, that her story and the way she told it was the weakest of the lot, was a strong one, however, and proved just enough to subject her to a battle that, by the look on her face, she had clearly never expected to be fighting.
Few foods sum up New York City more than the bagel, so the judges were not terribly surprised when we found out that it was the ingredient of choice for the final showdown. Nonetheless, we were hoping that two such creative chefs could take the humble item to some new and unexpected levels. Although there was heated debate once more on whose use of the single ingredient was most effective, we were not disappointed.
I have to hold my hand up and say that my days of being impressed by "funny" flavored ice cream ended about the same time as did my 20s, and I felt this counted against Chef Falkner's otherwise impressive dish. Chef Samuelsson's effort was, to my mind, technically far more accomplished than that of his rival and easily his most focused dish of the competition. There were, however, arguments that his use of the main ingredient was less creative than Chef Falkner's. We could have argued all day, but we had to make a decision. We marked our ballots and passed them back to Alton Brown.
The shell-shocked look on Chef Samuelsson's face as Alton announced, "I am sorry, but you will not be The Next Iron Chef," tells you just how close a decision this was.
And then there were five.
More behind-the-scenes extras from Super Chefs, episode 5: