Chatting with the Chopped Ultimate Champions: Celebrities, Part 4 Winner
David Lang, 2014,Television Food Network, G.P. All Rights Reserved.
For the first time on Chopped, professionals and amateur cooks will go head-to-head at the end of the five-part Ultimate Champions tournament. But they've all competed on Chopped before. They've tasted what it feels like to win, and they're hungry for more. In tonight's fourth round, four celebrities from the world of television, music and sports battled to determine which one would move on to the grand finale, where there's a chance to win the largest prize in the show's history: $50,000, with a brand-new car to top it all off. FN Dish has the exclusive interview with the winner from Part 4.
Appetizer: salmon fillets, avocados, sweet tea, cricket flour
Entree: pork loin, chocolate body paint, cucumber, black bean soup
Dessert: Key lime juice, cream cheese, banana paste, ladyfingers
First round: Gillian Vigman
Second round: Brandi Chastain
Final round: Carnie Wilson
Judges: Marc Murphy, Maneet Chauhan, Aarón Sánchez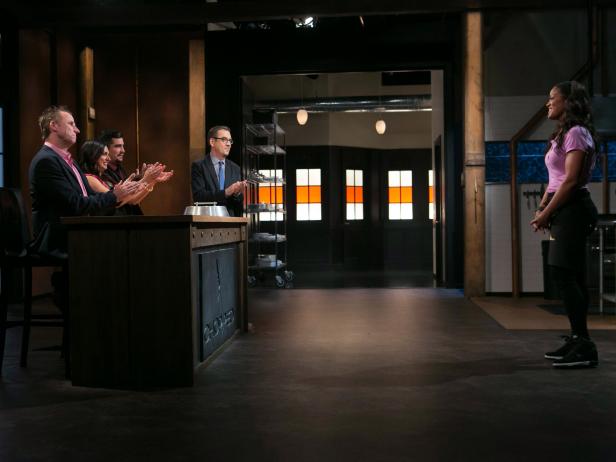 Celebrity chef Laila Ali reacts to chopped host Ted Allen with judges: Marc Murphy, Maneet Chauhan and Aaron Sanchez moments after finding out she has won a slot in the Chopped Ultimate Championship competition, the winner of which receives $50,000 and a new car from Buick, as seen on Food Network's Chopped, Season 21.
Laila returned to the Chopped kitchen, aiming to become a Chopped Grand Champion for the first time. Now she has a very good chance. Despite having small issues with each of her dishes, Laila cooked an entire course that proved she's fierce enough to go up against a professional chef in the finale. She took risks that lesser experienced chefs would never have taken. But being the undefeated boxer, Laila knows the art of competition inside and out. Along with professional Chef Giorgio from Part 1, amateur home cook Keith from Part 2 and hero cook Diana from Part 3, Laila moves on to the Ultimate Champions finale on Sept. 23.
So what was different competing this time versus the last time you were on the show?
Laila Ali: Competing this time was definitely different than last time because I've been here before. I knew what types of emotions and feelings to expect. You put even more pressure on yourself when you've won before, and you want to do better than you did the last time.
You always seem so calm and confident. You've said that you like to win the fight before you get in the ring. How have you applied that here?
LA: Instead of being nervous, fearful and doubting myself, I think about my strong points, the reasons why I can win and how I am able to win. I just surround myself with positive thoughts. The fact is that I do know how to cook well. For me it's really just a matter of executing and not taking too many chances. At the end of the day, everyone likes food that tastes good. That strategy has worked well for me. Now there is a little bit more pressure when you're going up against professionals because you have to elevate your game; it's not just about good-tasting food. You know they're going to be putting out plates at a different level, as far as presentation goes. You can easily get chopped on something like your presentation. There's a lot to think about. I'm really strong when it comes to what goes on in my mind.
Where does your focus come from? Is it something you've learned in your boxing career?
LA: Definitely. But not just from being a boxer. There are a lot of boxers who don't have the focus I have. I just understand the power of the mind. That's something that has to be practiced and it takes a certain level of spirituality, as far as I'm concerned. Being strong-minded has gotten me far in life. That's something that I've continued to strive for and focus on. It keeps me grounded.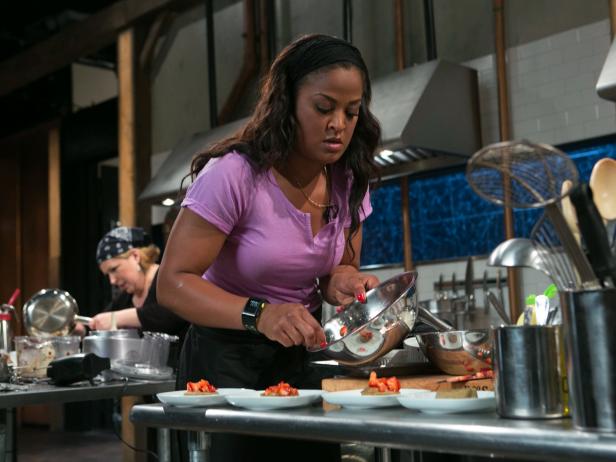 Celebrity chefs Laila Ali and Carnie Wilson as they work on their desserts that must include: key lime juice, cream cheese, banana paste and lady fingers as they compete for a slot in the Chopped Ultimate Championship competition, the winner of which receives $50,000 and a new car from Buick, as seen on Food Network's Chopped, Season 21.
David Lang, 2014,Television Food Network, G.P. All Rights Reserved.
What was the most-difficult basket for you today?
LA: The most-difficult basket for me would be the dessert round — not that it was difficult or the most difficult. I was actually pleasantly surprised that the ingredients were pretty straightforward. It's just that I don't bake often because I try to eat healthy. My approach has always been to keep it simple, make it good, and focus on taste, presentation and creativity. I'm seeing a lot of people come here and try to do too much, and they don't make it happen. I don't ever want to be that person.
So what made you decide to bake when you generally don't?
LA: I really thought baking would be easier. I've done it at home where I've thrown things together. The mistakes that I made today were just baking 101 mistakes. I forgot to use baking soda/baking powder. I put my cake in ramekins, when I could have used metal baking tins, which conduct heat better and it would have cooked faster. So those are just really small things, but at the end of the day the dessert tasted great. I haven't competed here in two years. These people I competed against today were here six months ago. So this was a really good test run for the finale.
How has your cooking at home changed since you've been on Chopped?
LA: The last time when I was on Chopped, I definitely went home with a goal of trying to be more creative and try new things. I have a 3-year-old and a 5-year-old, both of who get in the way of my creativity, because when I try something new, they don't want to eat it. So I usually stick to basics with them. But I'm inspired again to try new and different things for my entire family, coming up with dishes that my kids would eat. I look at it as a challenge and I really get inspired. I'm currently working on a cookbook. Being on Chopped definitely makes you step out of your comfort zone. I've said on the show that I don't bake, but that doesn't mean I'm not going to have baking recipes in my book. I'm inspired by recipes that we all know are already good, and then I try to make them healthier.
What kinds of foods will we find in your upcoming cookbook?
LA: American food with a healthy twist. My food is healthy, but you don't even know you're eating food that's healthy for you. I have a recipe that everyone loves — my oven-fried chicken — that people don't even believe is not fried unless I tell them or they see me make it. They tell me it's actually better than fried. I say, "No, it's not!" But my husband says, "No, babe, it really is." It's hard to imagine that people who like fried chicken would like my oven-fried chicken better, but I guess it's possible. It inspires me to take other dishes and reinvent them. The possibilities are limitless.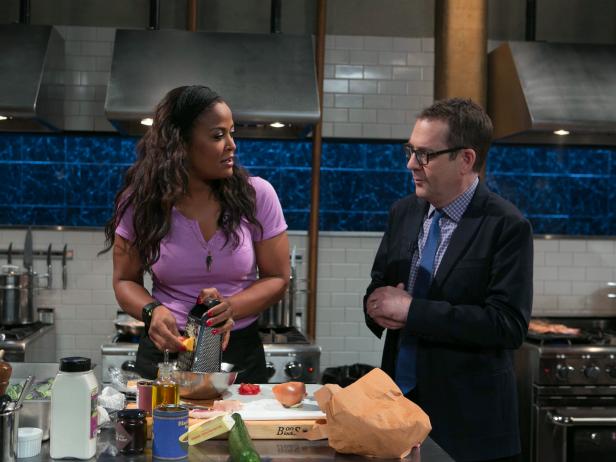 Chopped host Ted Allen checks in on celebrity chef Laila Ali as she works on her entree that must include: pork loin, chocolate body paint, cucumbers and black bean soup as she competes for a slot in the Chopped Ultimate Championship competition, the winner of which receives $50,000 and a new car from Buick, as seen on Food Network's Chopped, Season 21.
What's your strategy going into the finale, which will include a professional chef?
LA: My strategy will be the same as it was today: to do my very best. Notes that I take away from today are to start the appetizer round a little sharper. I was too relaxed. I felt that I wasn't as creative as I could have been. I didn't use the time wisely. Learning from what Aarón said about my entree, I'm going to leave myself more time to plate. Those small changes can make the difference in the finale when I'm dealing with people who are professional. I don't want to get chopped because of my presentation, especially if both our foods taste good. For the dessert round, I intend to come with an actual recipe in my mind. I had one this time, but I lost it. I couldn't remember it. Attention to detail is my goal in the finale.