A Spooky, Sweet Third Season of Halloween Baking Championship to Premiere This Fall
Get the details on the all-new season of Halloween Baking Championship, premiering on Sunday, Sept. 25 at 9|8c.
A new batch of eight terrifyingly talented bakers from across the country are set to compete to create haunting and spooky sweets on the new season of Halloween Baking Championship, premiering Monday, Sept. 25 at 9|8c. Comedian John Henson hosts as the contestants' baking abilities and imaginations are put to the test in two rounds of difficult confectionary challenges, from trick-or-treat candy-filled cookies to scream puffs (a scary take on the traditional cream puff) and from glow-in-the-dark desserts to Jack-O-Lantern cakes. The one who survives the twists of the competition and whose sweets put a spell on judges Carla Hall, Lorraine Pascale and Zac Young will take home the grand prize of $25,000 and the title of Halloween Baking Champion.
This season's Halloween Baking Championship contestants are Jasmin Bell (Seattle), Cliff Butler (Austin), Tyler Davis (St. Louis), Jonathan Elias (Birmingham, Mi.), Andrea Kratville (Sonora, Cali.), Dina Melendez (Brooklyn), Jessica Scott (San Diego) and Ray Vizcaino (San Diego).
In each of the six hour-long episodes, the contestants will cause quite a fright with freaky yet tasty Halloween desserts. On the first episode, the bakers must show off their decorating skills in the pre-heat challenge as they make a dozen Halloween-themed cookies from scratch. But the twist is that the bakers must stuff their treats with classic candies. One contestant will win a special advantage in the main heat challenge, where they need to make a sublime dessert with ooey-gooey fruit-flavored slime that oozes out when cut. A surprising twist in the challenge will be hard to swallow for one contestant who will be sent to the graveyard of the competition.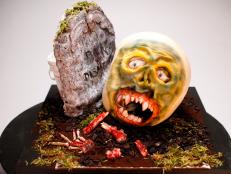 Halloween Wars returns for Season 4 with all-new episodes starting Sunday, Oct. 5 at 9|8c. Read on for a list of special guest judges.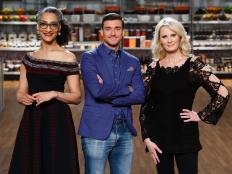 Halloween Baking Championship returns for an even spookier Season 2 with judges Carla Hall, Damiano Carrara and Sandra Lee, and host Jeff Dunham. Tune in for the premiere on Monday, Oct. 3 at 9|8c.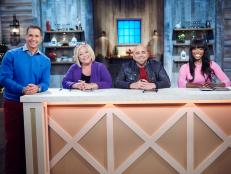 Get all the details on the new season of Holiday Baking Championship, premiering Sunday, Nov. 6 at 9|8c.