The Ultimate Packable Picnic
Practically any food eaten outdoors in the company of another could qualify as a picnic — "A jug of wine, a loaf of bread and Thou" being among the simplest and best menus still in use more than a thousand years after a poet first suggested it. But once the guest list numbers above three, a few more dishes are in order and a little strategizing pays off. To help plan your next outing, we've assembled a list of totable foods that are easy to eat sprawled out in the sun, plus some handy gear for serving it.
Picnic Menu Checklist
A Refreshing Drink: Fill a thermos or water bottles with a serious thirst quencher.
Some to try:

Juicy Fruit: Stick with what's easy to prep in advance — frozen grapes, cantaloupe wedges, pineapple cubes — so you're not stuck peeling oranges with sandy hands.
Some to try:
A Finger-Friendly Main Course: Keep utensils at a minimum and serve a classic like fried chicken or prewrapped sandwiches that can be enjoyed in a canoe or perched on a park bench.
Some to try:
Vegetables and Dip: Cut-up carrots, celery and cukes make handy scoopers for a variety of spreads — store-bought or homemade.
Some to try:
Dessert: A sweet treat at the end of a meal is a picnic necessity — and you can't always depend on the ice cream truck to arrive in time.
Some to try:
Something Snacky: Afternoon munchies (or a long car ride home) shouldn't bring down an otherwise perfect day.
Some to try:
Picnic Gear Checklist
Tote, basket or backpack
Blanket
Umbrella, sun hat or cap
Sunscreen and bug spray
Ice pack or resealable freezer bag filled with ice
Plastic grocery bags (for stowing trash)
Paper towels: If you're extra organized, stick a few damp ones in a resealable bag to have on hand for sticky spills.
Napkins
Beer opener or corkscrew
Condiments (salt, pepper and hot sauce): This is why you saved those cute little jars from your hotel breakfast tray.
Sharp knife (serrated or pocket)
Utensils (compostable, plastic or otherwise)
Plates and cups (paper, plastic or acrylic)
Water: Bring more than you think you'll need, even if you bring additional drinks.
Deck of cards
Football or Frisbee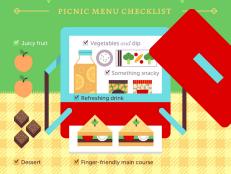 Plan your next picnic with our essential list of totable foods that are easy to eat sprawled out in the sun, plus some handy gear for serving it.