We break down one of Mexico's most beloved sauces and show you how to make your own mole at home.
Keep in mind: Price and stock could change after publish date, and we may make money from these affiliate links.
By Carlos Olaechea for Food Network Kitchen
Carlos is a contributing writer at Food Network.
Mole is considered one of the most important dishes in Mexican cuisine, but few people outside of Mexico are aware of just how vast the world of mole is. For starters, there isn't just one mole but rather a whole family of preparations that fall under the mole category. Mole poblano, which includes chocolate, is perhaps one of the most well-known moles in the US. However, there are many more varieties of mole in a rainbow of colors from red and green to yellow and even black. Here, we teach you about the world of mole - from how it originated to how it evolved into the myriad of moles enjoyed in Mexico today. Learn how to distinguish between the different types of moles, what to serve with mole and how to make mole at home. We've even included some of our favorite mole recipes.
Mole is a term used in Mexican cuisine to describe a type of sauce. The word mole (pronounced MOE-lay) comes from Nahuatl, the language of the Aztec Empire and the modern-day Nahua people, who are the largest indigenous group in Mexico. The original Nahuatl word is molli, which simply means sauce.
Nahua molli was mostly based on chiles, according to colonial Spanish accounts, and was ground into a paste, diluted with a liquid and added to proteins. The modern mole most Mexicans eat today is said to have originated in either the state of Puebla or Oaxaca, which are both famous for their moles, during the colonial period. Contact between indigenous Mexicans, Europeans, Africans and Asians in the Viceroyalty of New Spain meant that ingredients, flavors and cooking techniques from all over the world mingled in the same kitchen. As such, modern mole developed into a much more complex concoction that can sometimes contain dozens of ingredients. Many food historians believe these moles to be examples of the first fusion food in the Americas.
There is a wide variety of moles in Mexico, and every cook has his or her own variations, too. As well, inventive Mexican chefs and home cooks, alike, come up with new takes on these sauces, incorporating new and non-traditional ingredients. Despite the diversity of moles that exist, most moles include nuts or seeds, chili peppers and dried spices. Many types of mole also include either fresh or dried fruit. The whole mixture usually gets ground or pureed together, yielding a thick yet pourable sauce.
Things can get a little confusing sometimes, though, as the original meaning of the word mole is often taken to heart in Mexican cuisine. For example, guacamole is technically a type of mole made from avocados, but it's typically not included within other types of mole. As well, there is a mole de olla, which is a type of stew that includes many elements found in moles. In short, a mole.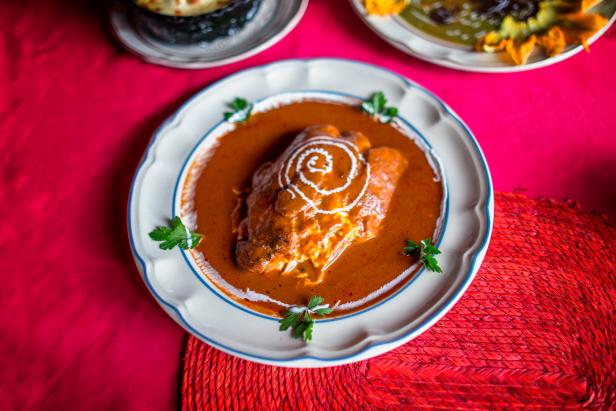 serving mole
Coloradito mole is more like a red mole sauce from Oaxaca state in Mexico, Mole coloradito is a classic sauce for chicken, made a rich reddish color by several wonderful mild chiles mixed with melted Mexican chocolate, traditionally mole is very labor intensive, reserved for special occasions. Coloradito mole is a typical dish in the â southern part of the country of Mexico and is a delicious traditional dish.
©fitopardo / Getty Images
What Is Mole Sauce Used For?
Mole sauce can be used for many purposes, and you will see many Mexican cooks add it to a variety of traditional dishes, depending on the type of mole they are using. However, the most traditional way to use mole is as a dressing for meats. Mole is traditionally a sauce that is made on its own and poured over poached or roasted meats rather than being the base of a stew. In other words, mole isn't the flavorful sauce in a stew but rather a stand-alone sauce. Additionally, it differs from other Mexican sauces, particularly salsa, in that it's not a condiment but rather forms the backbone of the dish.
In this sense, moles are used in very much the same ways that mother sauces are used in classic French cuisine - as an addition to a dish rather than the base of one. Think of sauces like béarnaise, which is served alongside steaks, or vélouté, which is poured over meat preparations, and you have a general understanding of how mole sauces are used in Mexican cuisine.
Besides being added to meats, mole is often used as a sauce for enchiladas. Mole can also be used in burritos and tacos along with meat or just as a saucy addition to vegetables, rice or beans.
There are dozens of different types of traditional mole recipes in Mexican cuisine, and if you count individual cooks' own creations, there is an almost limitless variety. You can usually divide the types of moles into hot chili-based moles, sour tomatillo-based moles, sweet fruit- and sugar-enhanced moles, spiced moles and thick moles enriched with seeds, nuts or tortillas. The state of Oaxaca is known to have a large variety of moles, and is known for its seven traditional recipes. Oaxaca is so famous for its moles, in fact, that the state is often referred to as the Land of Seven Moles. Perhaps the most popular mole style comes from Puebla and is known as mole poblano. Below are descriptions of some of the more popular styles of mole from Mexico:
This is the famous "chocolate mole" that gets its dark ebony color and rich flavor from sugar and cacao, but sometimes a bar of Mexican chocolate is used for simplicity. This is one of the most complex types of mole, and some recipes contain as many as 20 ingredients. Other ingredients include mulato peppers, which have a smoldering heat and chocolatey color, nuts, onions, garlic, avocado leaf, stale tortillas and sesame seeds. This mole is typically served over poached or roasted turkey.
This is the Oaxacan answer to mole poblano and also features chocolate. However, as its name implies (mole negro means black mole), this mole is a lot darker and more intensley-flavored than mole poblano. It also uses hoja santa, a medicinal herb with a unique flavor, to give the mole a distinctive flavor. In Oaxaca, it is considered the most complicated and difficult mole to master.
Also from Oaxaca, this is a red-colored mole that is based on blistered tomatoes. It includes raisins, sesame seeds and sweet spices, such as cinnamon, cloves and allspice berries. This type of mole usually gets used in enchiladas.
This is another Oaxacan mole that is bright green in color. Whereas many types of moles can be started from a spice mix or paste, this is a fresh mole, which requires the cook to use a variety of fresh herbs and greens, including cilantro, hoja santa, parsley, spinach and lettuce. It also uses fresh green chiles and pumpkin seeds for body. Tomatillos give the sauce a bright tartness.
This is a type of mole from the area around Mexico City, specifically San Pedro Atocpan where 60% of the moles consumed in Mexico are produced. This mole includes fire roasted tomatoes, onions and garlic along with sweet spices and a variety of dried chiles. However, its most distinguishing feature is a generous amount of blanched almonds, which give this mole a sweet flavor.
What is in mole largely depends on the type of mole you want to prepare. As you can tell from the descriptions above, each type of mole has its own specific ingredients, although there are several common ingredients. A type of fresh or dried Mexican chile is usually a must! Onions and garlic are often included in many varieties of mole. Common spices used in mole include cumin, cinnamon, cloves and allspice. And many mole recipes also include herbs, such as Mexican oregano or hoja santa.
Most moles get their richness from seeds or nuts. When those nuts or seeds are ground into the mole, the oils release into the mole and provide it with a creamy mouthfeel. The ground nuts and/or seeds also help thicken the mole. Fruits are common additions to mole, too. You will find raisins in many moles; these get blended into the final sauce. Chocolate or cacao also feature in several varieties of mole, but don't get carried away adding it to every kind of mole. Remember that these recipes were developed over centuries to highlight the flavors of ingredients. Chocolate might dominate other more subtle flavors in certain types of moles.
Many types of mole are traditionally made by grinding the ingredients into a paste or a powder. These types of mole mixes are sold at marketplaces and grocery stores in Mexico, and many Mexican and Latino groceries in the U.S. import these mixes. These type of moles bases are traditionally mixed with water or stock and slowly simmered in a cazuela, a clay cooking pot used specifically for preparing mole sauces. While these are beautiful to have, they're not necessary for making mole at home.
Because certain types of moles can be very difficult to make and require hard-to-source ingredients, many expats will use a packaged mole concentrate often available in jars. These only require you to add water or broth and simmer until you achieve your desired consistency. You can often find jars of mole poblano concentrate at many Latino grocery stores in the US and online. Dona Maria is a very popular brand.
Gather the Right Equipment
If you want to make mole from scratch, you should first make sure to have a heavy-bottomed saucepan or dutch oven to simmer it in. It's also important that you have a comal, cast-iron skillet or griddle, as you'll need this to prep your ingredients before grinding them.
Toast the Dry Ingredients
Any dried chiles, spices, nuts and seeds should be toasted on a dry skillet over medium heat until fragrant and lightly browned. You will notice that the chiles become slightly brittle and lose their shine. This process helps enhance the flavors of the dry ingredients
Char the Fresh Ingredients
Fresh ingredients like garlic, onions and tomatoes should be charred on the skillet. Mexican cuisine usually requires smaller tomatoes, such as campari or roma tomatoes. Simply place them on a hot skillet and let the skin get blistered and slightly charred all over. You'll notice that the tomato gets a little soft. This is a good thing. Onions should be cut in half and placed on the hot skillet cut side-down. Garlic cloves should be charred with their skins on and then peeled.
Puree all the Ingredients Until Smooth
Once everything is toasted and charred, place the ingredients into a blender and pulse until smooth. Moles may have a slightly gritty texture but they are never meant to be chunky, so whir away until there are no longer any bits left.
Simmer the Mole Until Thickened
Then simply pour the contents into your pot and simmer over very low heat, stirring often.
This mole recipe stays close to the traditional mole poblano recipe, requiring you to poach chicken and make the sauce separately. However, this is a much more simplified version of the traditional Puebla recipe.
This is a very simple Americanized version of mole made into a one-pot meal using a slow cooker. While meats aren't typically braised in mole sauces, it is definitely a great way to infuse flavor in cuts like bone-in pork butt.
If you want a hassle-free taco filling with all the flavors of mole but without the long and sometimes complicated process, this is the recipe for you. Everyting gets thrown into a slow cooker. No blending required!
This mole recipe is another one inspired by traditional Mole Poblano and Mole Almendrado. Instead of using a comal or skillet to char the vegetables, everything is done on a sheet pan under the broiler before getting pureed.
This recipe for mole includes instructions for poaching turkey and making a flavorful turkey stock. Turkey is the most traditional meat served with mole poblano, which is the inspiration for this recipe.
This recipe includes a couple of cheats to get mole-inspired flavor in a fraction of the time. Chinese five-spice powder provides all the complex sweet spices, while nut butter and cocoa powder eliminate the need for toasting, grinding and pureing.
This is a more innovative recipe that takes the flavors of mole as inspiration for a flavorful steak rub. You can use the combination of spices and cocoa powder on any meat you want.