Cinnabon wouldn't hand over the recipe for those famous cinnamon rolls, so Food Network Kitchens whipped up some pretty sweet imitations.
When the first Cinnabon shop opened in Seattle's SeaTac mall in 1985, the smell of freshly baked cinnamon rolls turned out to be a better marketing tool than the buns themselves: Within a few years, the stores became a food-court fixture. Recipe developer Jerilyn Brusseau spent three months creating the chain's classic roll, so it's no wonder the folks at the Atlanta headquarters keep the recipe tightly guarded. When we called to get the recipe for Lisa Doyle, a reader from Port Washington, NY, a company spokesperson tried to appease us by passing along a generic recipe, but we weren't having it—the bun didn't even come with the classic frosting! Food Network Kitchens created these copies, instead.

Photograph by Ngoc Minh Ngo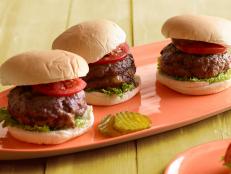 Instead of laying cheese and other toppings on top as an afterthought, surprise your fellow burger eaters by stuffing your next patties at the core.