How to Cut a Butternut Squash Without Losing Any Fingers
Because a visit to the ER on Thanksgiving is a total buzzkill. Amanda Freitag shows you how on the Food Network Kitchen app.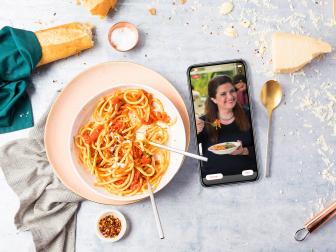 Download Food Network Kitchen now to sign up and take advantage of the latest offer and get 40+ live classes a week, hundreds of on-demand cooking classes, in-app grocery ordering and so much more.
In this series, we're showing off some of the coolest recipes, tips and tricks we've learned from chefs in the all-new Food Network Kitchen app.
Is the Butternut Squash Soup that Amanda Frietag made live on the Food Network app delicious? You bet! But this post isn't about that. If you're like me and you tremble in horror when you have to tackle a whole butternut squash, pay attention to the beginning of Amanda's on-demand class for the perfect technique. Your fingers will thank you!
The first hurdle to a great butternut squash soup is to get into that thick-skinned vegetable. Sure, you could buy butternut squash already cubed, but it's going to cost more. To tackle a butternut squash like a boss you need a few tools: a heavy cutting board, a wet paper towel, a heavy knife, a sharp peeler and a healthy dose of self-confidence. You've got this!
1. Put a wet paper towel underneath your cutting board.
"What that does is prevent this cutting board from slipping," explains Amanda.
2. Use a heavy duty knife for the initial cut.
The weight of the knife helps you get through that thick skin.
3. Cut across the squash between the neck and the bulbous area, not in half lengthwise.
When you cut it this way, you separate the squash into the portion with seeds and the portion without, making it easier to cut and remove the seeds.
4. Cut the base in half and remove the seeds.
5. Cut off the tip of the neck to create a flat surface and peel.
At this point, you have options, you can peel it with a heavy duty peeler or you can use a knife. Amanda likes to use a flat peeler that she can pull towards her because she thinks a knife can take too much of the edible flesh off of the squash. "If you start at the cut end it's easier for the peeler to pick up that skin," says Amanda. She moves her hand and the peeler simultaneously to get through the skin. (Check out her technique at 2:47!)
Did you make it through that with all of your fingers? Congratulations! Now cube your squash, making sure the cuts are roughly the same size so that they all cook through at the same time, and follow any butternut squash soup recipe you like. Amanda uses green apple for a hint of sweetness and curry for a little spice in hers.
Here are some exclusive on-demand classes to get you in the holiday cooking spirit!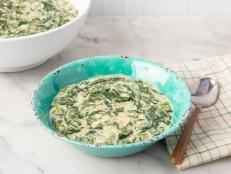 Bonus: It frees up valuable space in your oven. Watch Amanda's live demo on the Food Network Kitchen app for tips on making perfect creamed spinach.