Delicious Recipes That'll Make You Thankful for Leftover Pumpkin Puree
Never let even a tablespoon go to waste again.
Fearing a canned pumpkin shortage, I sent my husband to the grocery store in mid-October and told him to buy whatever he could. (Now, before you compare me to the toilet paper hoarders of 2020, all I meant was a can or two. Organic, name brand, store brand, large, small — I just wanted some variety of pumpkin puree so we wouldn't have to cancel pumpkin pie this year, in addition to so much more.) So, spoiler alert: He succeeded! And I now have a reasonable amount of canned pumpkin on hand for Thanksgiving desserts, and I'm determined not to waste a single tablespoon.
If you've ever opened a can of pumpkin, used what you needed and found yourself with leftovers, you know the struggle — but it doesn't have to be that way. Here are some of our favorite ways to put leftover canned pumpkin to delicious use.
While sweets are good, savory recipes shouldn't be left out of the fun. Use up leftover pumpkin puree to add a level of creaminess to Alfredo sauce like never before. You can have this tortellini dinner (pictured above) on the table in only 20 minutes.
Pumpkin pie lovers, now you can get your fix in the morning. Stir all the ingredients for this quick, make-ahead breakfast together before bed and wake up to ready-to-eat oats that are simply bursting with fall flavor.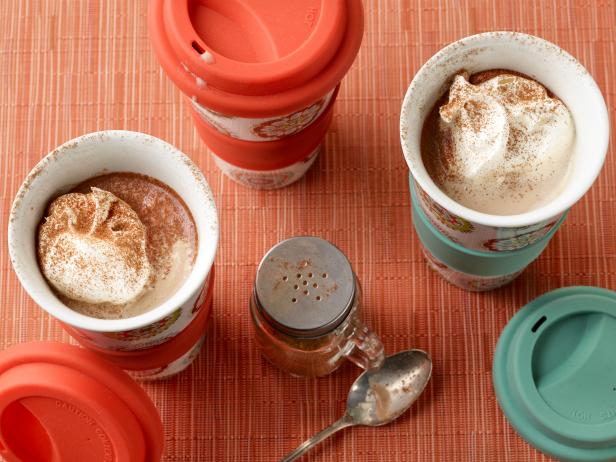 FNK_PumpkinSpiceLatte_H
Chef Name: Food Network Kitchen Full Recipe Name: Pumpkin Spice Latte Talent Recipe: FNK Recipe: Food Networks Kitchen's Pumpkin Spice Latte, as seen on Foodnetwork.com Project: Foodnetwork.com, FN Essentials/Weeknights/Fall/Holidays Show Name: Food Network / Cooking Channel: Food Network
Renee Comet, 2013, Television Food Network, G.P. All Rights Reserved
Just three tablespoons of pumpkin can go a long way in transforming a box of mac and cheese, and only two will have you well on your way to PSL heaven at home. You'll save your leftover pumpkin puree from being forgotten in the back of your fridge and save yourself a few bucks by making your own latte — talk about a win-win!