7 Portable Grills That Prove You Can Barbecue Anywhere
Take the barbecue to the beach, camping or out on the patio with these portable grills!
Keep in mind: Price and stock could change after publish date, and we may make money from these links.
Grilling is a quintessential summer activity, saving you from heating up your kitchen with your oven and encouraging you to spend quality time outdoors on a nice night. But, if you live in an apartment or have limited outdoor and patio space, cooking outside might feel just out of reach. We're here to say it doesn't have to be.
There are smaller, portable grills that can make having an outdoor barbecue feasible in just about any setup. We scoured the Internet and reached out to Food Network test kitchen director (and grilling extraordinaire) Ginevra Iverson to get her take on what you should look for when selecting the perfect grill for your small space. Before you make a purchase, though, we advise you to check your local fire codes and as well as each individual manufacturer's guide for information on how close a grill can be to your apartment building or house.

Equipped with two folding tables, thermometer built in to the lid and removeable catch pan, this portable grill gives you enough space to make it easy to prep, grill and serve food no matter where you are.
Buy It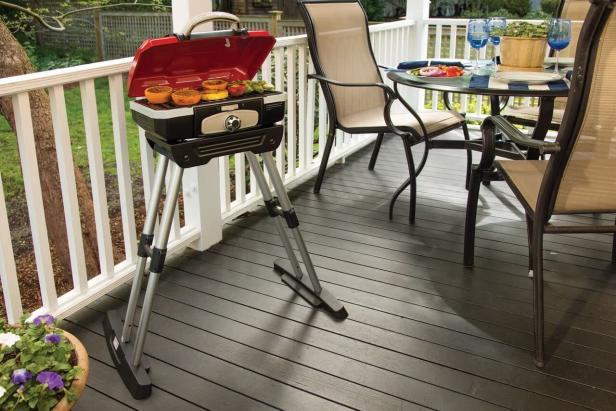 This portable grill has foldable legs and only weighs 17 pounds, making it easy to carry around but also simple to prop up for grilling. The spacious cooking surface is designed to be large enough to prepare food for four to six people, so you everyone can eat at the same time.
Buy It
Cook six burgers at once on this portable charcoal grill from Weber. The legs on this grill flip over to become handles, making it compact and secure for traveling. Plus, with Weber Connect, you can turn this portable grill into a smart grill, which will let you know when your food is ready to flip or done cooking as well as offer recipes and tips.
Buy It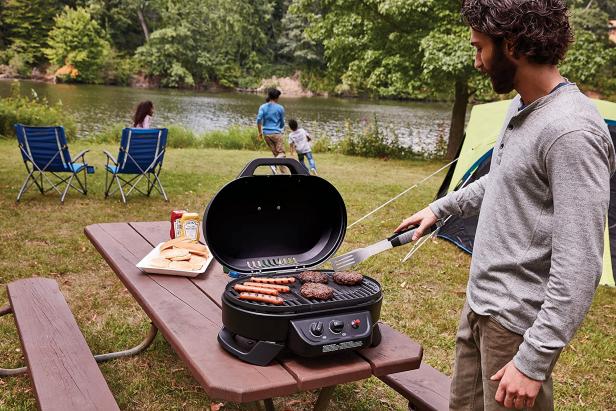 This light-weight grill is perfect for taking with you while camping or on your next road trip. The two separate burners gives you more control while cooking and over how much propane you're using while grilling.
Buy It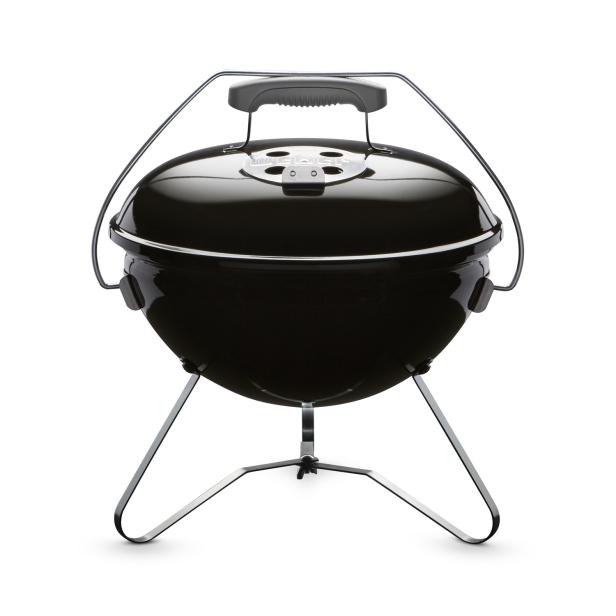 While we don't usually test or develop recipes on a small grill, we've seen strong reviews of this small, portable Weber grill. Weber ensures this small charcoal grill is compact and lightweight, secure with a lid-lock carrying handle to make moving worry-free. The diameter of this grill is 14 inches, and it is about 17 inches in height, so it's perfect for a small patio and portable enough to be moved around whenever you need it. One reviewer on Weber's site also praised the Smokey Joe grill for camping, picnics or grilling for two.
Buy It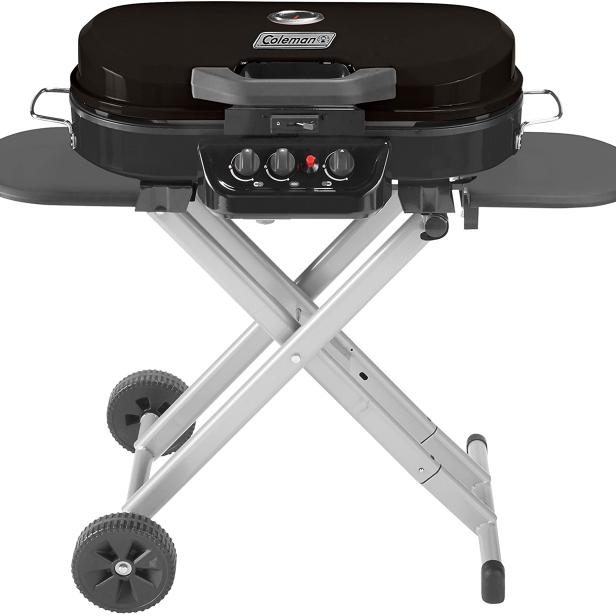 The fact that this grill is on wheels already makes it an ideal option for on-the-go outdoor cooking. Plus, the stand also offers additional counterspace, which most of the other portable grills do not. Not only will this free up space on your outdoor table, but it'll make sure you always have a place to rest your spatula between flipping burgers.
Buy It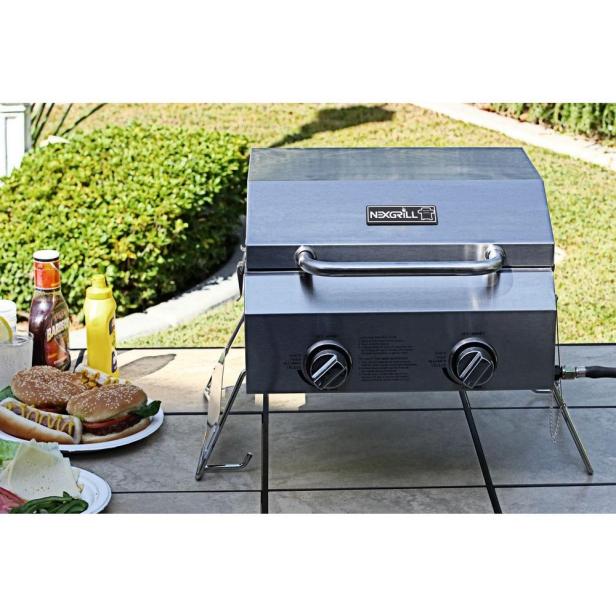 Overall, Ginevra recommends looking for a heavy duty grill with a steel grilling surface, which brought us to this small propane gas table-top grill. According to the brand, this grill comes equipped with two stainless steel, independently adjustable main burners, large enough to cook up to nine hamburgers at once. Weighing only 20 pounds, this lightweight grill is great for bringing out to the patio for a night of barbecue.
Buy It