"That's Going to Be an Issue Here" — Testing the Cutthroat Kitchen Sabotages
Watch the Cutthroat Kitchen culinary crew attempt to make a croque madame sandwich in a perforated French loaf pan.
We're sorry, there seems to be an issue playing this video. Please refresh the page or try again in a moment. If you continue to have issues, please contact us here.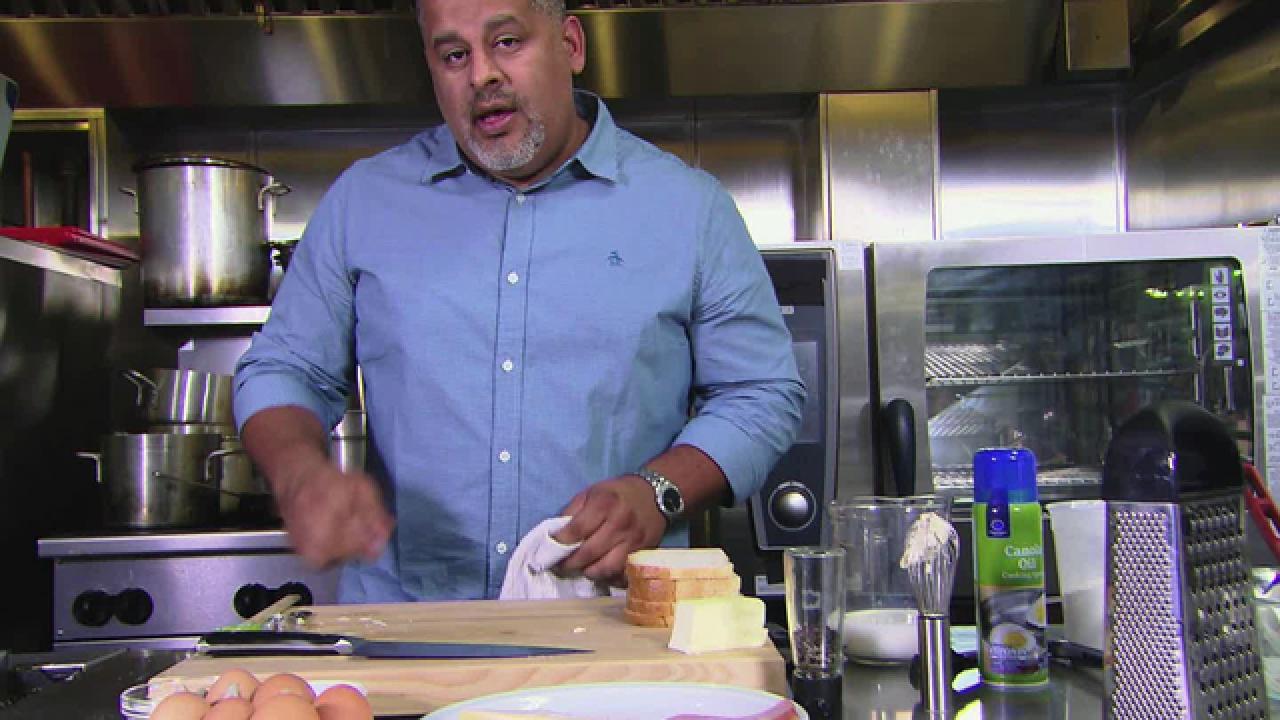 As far as sabotages go, one that's made out of metal, provides stable support for food and stands up well to heat is practically a gift in the eyes of Cutthroat Kitchen rivals. Or at least it likely seemed that way ahead of tonight's brand-new episode when Alton Brown auctioned off a perforated French loaf bread pan on which one rival would have to cook a croque madame. Since a French loaf pan is a sturdy metal pan that's indeed meant to be heated, the bread, meat and cheese elements of this classic French sandwich would be doable, but creating the bechamel — a creamy sauce — would prove downright difficult.
Before Alton could feature this sabotage on the show, it had to vetted by the Cutthroat culinary crew, and during the test, food stylist Hugo Sanchez noted his concern about making a liquid sauce in a holey vessel. "That's going to be an issue here," he said simply before getting set to tackle the challenge head-on. His solution involved filling the holes by mixing up a pastelike combination of flour and milk, as he explained: "It is sticky. It's gooey, which is exactly what we want." After covering the holes with this mixture, he quickly turned the heat on in an effort to bake the paste into the holes, thus closing them once and for all, and ultimately allowing him to use that now-solid surface to create his sauce — and approve the sabotage.
Click the play button on the video above to watch Hugo's test unfold, and hear more from him as he explains the ins and outs of testing the sabotage.