2 Magic Ingredients for the Best Chocolate Chip Cookies Ever
You probably already have them in your kitchen.
Sometimes the very best recipes have ingredients you don't even see. Case in point, the secret ingredients that The Pioneer Woman adds to her Chocolate Chunk Cookies that take them to the next level. The first is brown butter.
"This stuff is absolutely magic," says Ree.
To make the brown butter you melt a couple of stick of butter and let it bubble gently, says Ree. Keep swirling it over the heat until it becomes a nutty brown color. Be careful not to burn it! When the butter is a deep golden brown, remove it from the heat and just let it cool completely. "The key is just to drizzle it in really slowly. If I add it too quickly, it'll turn into a real messy, soupy mixture," Ree advises.
"You can actually substitute brown butter for some of the butter in any cookie recipe you're used to making. I guarantee you it'll make the cookies even more delicious." Replace some of the regular butter in a cookie recipe with brown butter. Some traditional softened butter is still needed to cream the butter and sugar together.
This weekend on her Chocolate Appreciation Day episode, Ree does just that and adds them to her White Chocolate Macadamia Cookies. "I love white chocolate macadamia nut cookies," she says, "but sometimes they're a little bit pale and lifeless and boring. The brown butter totally takes care of that."
Her second "magical" ingredient for over-the-top Chocolate Chuck Cookies is instant coffee. "The coffee just gives the cookie dough a nice richness," says Ree, "It really sends it over the top. And the thing is, my husband doesn't like coffee at all, but he loves my chocolate-chip cookies."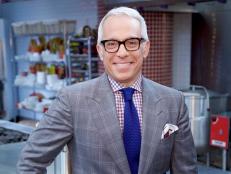 And other words of wisdom.