Breakfast Brain Foods for Kids and Adults
Kid-friendly brain food ideas fit for the summer.
The media blasts us with "brain food" articles and TV segments every back-to-school season. Does that mean our kids can be less smart in the summer? Do they require less fuel for their brains and working muscles between Memorial Day and Labor Day? Of course not! In fact, for me, I want my boys to be extra alert when they're hitting fast-balls and shooting arrows at camp!
Most kids are involved in high-energy activities all summer long, whether it's camp (sports, acting, dance, art, music), frolicking at the beach, lake and pool, or traveling for family getaways. All of these adventures demand focus and energy. A healthy breakfast is the best way to prepare for a long day of fun.
Consider this: if your kids hit the sack around 8:00 PM and sleep until 6:00 or 7:00 AM, that's 10-11 hours without food. You can't send them anywhere like that. Their bodies (and yours) are running on empty and need fuel. The best breakfasts combine protein, complex carbohydrates and healthy fats. Why all three and not just a banana?
Protein feeds muscles and slows digestion, providing long-lasting energy. Examples: eggs, nuts, cheese, yogurt, nut butters (peanut, almond), meat, fish, chicken and turkey.
Carbohydrates instantly feed the brain and working muscles and fiber slows digestion, providing a steady release of energy over time. Examples: whole grain cereal, bread, tortillas, pita, crackers, oats and pasta.
Fat boosts memory and brain function. Examples: unsaturated oils, nuts and nut butters, seafood, avocados.
Clearly, combining foods provides a greater benefit and is the best way to start your day. And these foods aren't just for little campers and swimmers, adults need long-lasting energy to keep up! The benefits go beyond breakfast too. By choosing foods that last for hours, you're less likely to grab unhealthy snacks at the beach, pool and roadside stops.
Note: Not all suggestions are considered typical breakfast fare. But who says you need to be typical?
Whole wheat French toast topped with walnuts and fresh berries
Pepperjack grilled cheese with avocado, on whole wheat bread
Nut butter and fruit preserves on a whole-grain English muffin
Egg salad on whole-grain crackers
Whole-grain tortilla wrap with turkey, Swiss cheese and baby spinach
Guacamole with whole-grain crackers or baked corn chips
Oatmeal with toasted almonds and fresh and/or dried fruit
Whole grain cereal with low-fat milk and berries
Tuna salad, made with light mayonnaise, in a whole wheat pita pocket
Sharp cheddar cheese with whole grain crackers
Pasta salad with whole wheat pasta, light vinaigrette and vegetables
Brown rice with cooked egg and vegetables ("fried rice")
Turkey bacon BLTA (avocado) on whole-grain toast
Yogurt topped with low-fat granola and pitted cherries
Whole-grain crackers with roasted red pepper hummus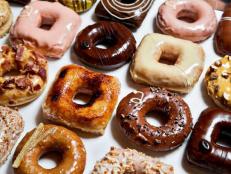 Whether you're sightseeing, relaxing near the beach or enjoying a staycation at home, we've got the lowdown on breakfast destinations that are worth a special trip.