Brown butter has a golden color and a nutty, toasted flavor, which is the result of the milk solids caramelizing. It's not hard to make, but it can burn easily, so you have to watch it.
We're sorry, there seems to be an issue playing this video. Please refresh the page or try again in a moment. If you continue to have issues, please contact us here.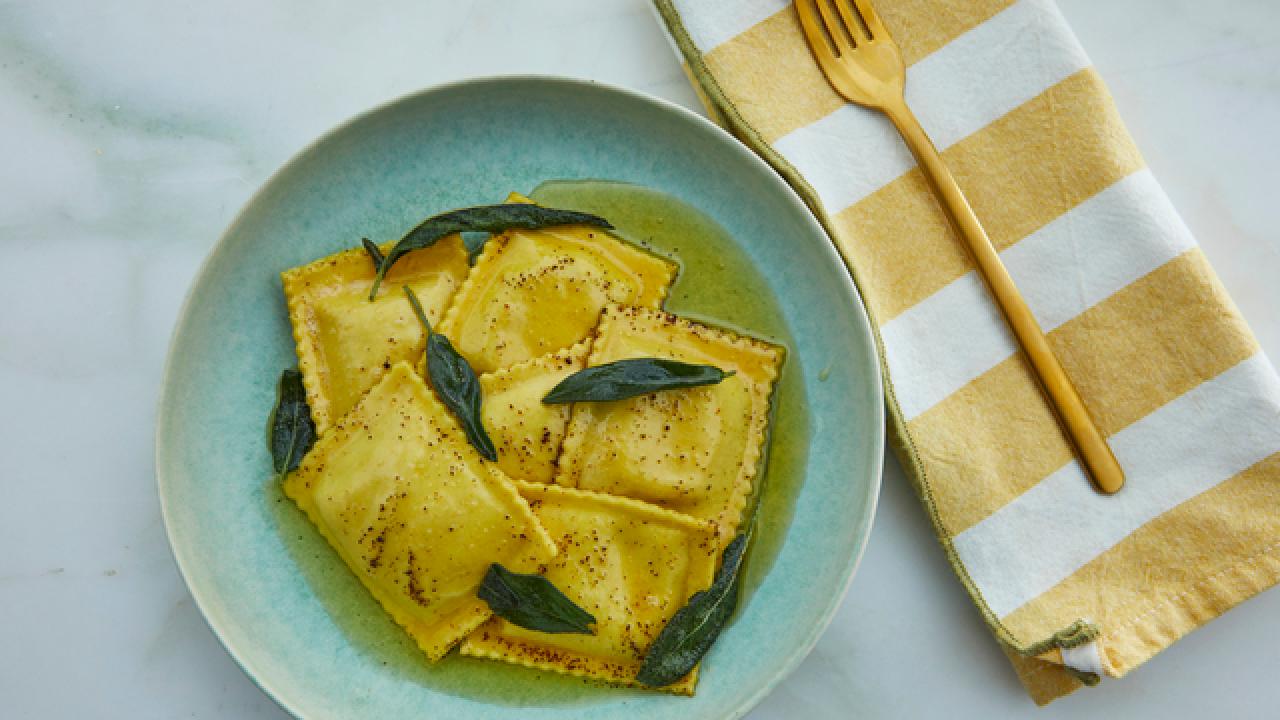 You've probably seen "brown butter" in the name of many a recipe, ranging from savory dishes like Brown Butter Scallop Rolls to sweets like Brown Butter Thumbprints. But what exactly is brown butter? Why does it make dishes so tasty? And how do you make it? Read on for all the answers.
Brown butter, also known as buerre noisette in French, is made by heating butter until the milk solids caramelize, imparting a golden color and toasted, nutty flavor. The French technique is an easy way to ramp up the flavor of regular butter without adding any extra ingredients. While easy to make, butter can go from brown to burnt fast. Follow this simple method for great results every time.
What You Need to Make Brown Butter
We prefer to use unsalted butter to control the amount of salt in the finished dish, but you can use the same method for salted butter.
A light-colored pan allows you to see the browning better.
You'll need something to stir the brown butter with. A rubber spatula allows you to really wipe the sides of the pan clean as you stir, but a wooden spoon would do too.
How to Brown Butter, Step-By-Step Guide
Step 1: Cut the Butter Into Equal Pieces
Start by cutting unsalted butter into equal-sized pieces, which melt more evenly.
Step 2: Cook the Butter Over Medium Heat
Put the butter in a skillet over medium heat. Swirl the pan so the butter melts evenly. Then stir occasionally with rubber spatula.
Step 3: Let the Butter Bubble
The butter will bubble gently as the water cooks out and the milk solids rise to the surface. If it's cooking too fast or boiling hard, lower the heat. As the foam subsides, the milk solids will sink to the bottom of the pan and start turning brown.
Step 4: Stop Cooking the Butter as Soon as It Smells Toasted
As soon as the butter smells nutty and toasted, and turns a deep golden brown, it's ready! Immediately transfer it to a heatproof bowl to cool. It will keep cooking and could burn if you leave it in the pan.
Don't forget the browned bits—that's where most of the flavor is. You can strain or decant the brown butter if a recipe requires it—the clear fat will still have a mild toasted flavor. Brown butter adds a rich, nutty flavor to everything it touches. Try it on roasted squash, pasta or in baked goods like brownies, pancakes or muffins!
Is Moisture Lost When Browning Butter?
Because you're cooking the butter down, and butter is a combination of protein, fat, water, carbohydrates and minerals, it's only natural that water is indeed lost when you're browning it. What does this mean? If you're swapping brown butter into a recipe that calls for regular un-browned butter, you should measure the butter after browning it.
What to Make with Brown Butter
The brown-butter glaze takes this deeply satisfying quick bread over the top.
The secret to getting crispy, caramelized acorn squash with very little added oil? Your trusty air fryer! We topped the whole dish with a sprinkle of Parmesan and a drizzle of brown butter, for a comforting and easy fall side dish.
This recipe puts a little twist on the classic potato gnocchi using sweet potato instead. I love its natural sweetness and beautiful color. I then coat the pillowy pieces with a rich, nutty and salty brown butter. (I felt that tomato sauce might be a bit too acidic and mask the sweetness.) To top it all off: crispy nuggets of pancetta and fried sage leaves.
This four-ingredient frosting actually has five ingredients-the last being the toasty bits of butter you get from slowly cooking butter until it is brown. Taking this extra step elevates a regular frosting to something really special. Top your favorite vanilla or chocolate cupcakes with it, or spread it on banana bread.
We opted for a nutty crumb topping over marshmallows to create a pleasantly crunchy contrast to the creamy and soft mashed sweet potatoes. The filling gets a pumpkin pie-like treatment, with brown sugar and vanilla for a deep caramel flavor and butter and eggs for richness. This recipe is bound to become a holiday staple.
You know when people say, "That's the stuff dreams are made of"? They're referring to brown butter. I'm a big believer that apps for entertaining should be wildly impressive on the plate and easy behind the scenes. In this flavorful twist on rollatini, briny feta and salty prosciutto are layered together inside rosemary-scented zucchini slices. Splashed with sweet, nutty brown butter, these fantastic hors d'oeuvres might only make it to the party in your mouth.