All your ham questions, answered — including how long to cook it and how to carve it.
By Matthew Skrincosky for Food Network Kitchen.
Matthew is a food stylist at Food Network.
When spring arrives, you might find yourself thinking of serving a nice ham again. While ham is a traditional main dish during the holiday season, serving ham on Easter Sunday has been popular in America since the end of the Second World War simply because when ham is in season, it's cheap. Read on to master the ins-and-outs of cooking ham, put all your trepidations aside and adorn your table with a shiny lacquered centerpiece.
What are the Types of Ham?
Hams are often cut into two pieces: the shank and the butt. The shank is the bottom half and is leaner and more flavorful; the butt is the top half and is fattier and richer. In addition to choosing which cut, you'll also want to choose between the following preparations.
This is the most widely available type of ham sold. It's brined, fully cooked and can come smoked or unsmoked. This type of ham is classically used to make glazed ham. City hams are also sometimes sold sliced, which will be labeled as spiral cut.
Country ham is harder to find than city ham. They're popular in the south — Virginia Ham is a famous type of country-style ham. Country hams are cured with a dry rub, can be smoked and are sold raw. They have an intense hammy flavor, a bit like prosciutto.
This specialty cut from your local butcher is sold uncured and uncooked, typically with the skin on. When you cook it, the resulting flavor often ends up tasting like juicy, tender pork roast with crispy skin.
Exactly what it sounds like, boneless ham is ham with it's bone removed that's pressed into a compact oval for easy carving. The texture is a little more like that of deli ham than the varieties listed above. Keep in mind that just like in cooking any other type of meat, cooking a bone-in ham affords juicier, more flavorful results. Moreover, if you opt for bone-in, that leftover ham bone makes for a wonderful soup base in the future!
Using a sharp knife, cut through the fat and skin layer of the ham in a diamond pattern primarily to allow your delicious glaze to permeate the meat. The pattern also creates a "wow factor" on the centerpiece of your dinner table.
No matter which variety of ham you choose, at the end of the day, you can really get creative with the glaze you choose. With a myriad of recipes at the ready, pick the sugar and spice combination that suits your fancy and combine the ingredients during the first few hours the ham's cooking! In the last hour of cooking, brush the ham with the glaze and then keep the glaze near the oven. Brush the ham with the glaze every 15 minutes or so for gorgeous, burnished results.
Cover the Ham While It Cooks
No one, and we mean no one, likes a dry ham. Unfortunately, the downfall of having a salted, cured piece of meat is a drier end result. Combat this by always keeping your ham covered with aluminum foil while in the oven. After every application of glaze, be sure to cover it back up!
How log to cook a ham depends on which variety you chose — whether it's pre-cooked like city ham or raw like country ham. To determine how long to cook the ham and ensure perfect results, use an instant read thermometer. Insert the thermometer into the thickest part of the ham, stopping short of the bone (if it's bone-in). Remove your ham from the oven when it reads 140 degrees F in its center.
Once the ham is out of the oven, dripping with sugary goodness, allow it to rest covered for at least 15 minutes before carving, ensuring all the juices redistribute back through the meat.
How to Make Baked Glazed Ham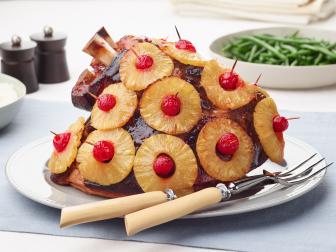 Pineapple Honey-Glazed Ham
Ham dressed in pineapple rings and maraschino cherries is a holiday classic, burnished with a glossy glaze made with pineapple juice, honey and brown sugar.
Baked glazed ham is the most traditional way of cooking ham — and for good reason. You'll typically start with fully cooked city ham, which offers an easy solution for the cook who's looking to impress.
Pull the ham from the refrigerator about 30 minutes before cooking it to let it come to room temperature.
Score the outside of the ham through the skin and fat with a sharp knife in a diamond pattern.
Put the ham, flat-side down, on a rack in a roasting pan. Add a cup of water to the bottom of the roasting pan, which will steam as the ham cooks, keeping it moist. Cover the pan with foil.
Roast in a 350 degrees F oven until the thermometer inserted into the thickest part of the ham registers 130 degrees F. Increase the oven temperature during the last 45 minutes of cook time to 375 degrees and glaze several times. The ham is done when it's cooked to 140 degrees F.
Rest the ham before serving.
How to Cook Spiralized Ham
Spiral ham is prepared and cooked the same way as baked glazed ham, only it cooks for less time because of the spiral cuts. One might opt to cook a spiralized ham because the cuts afford maximum real estate for the glaze to permeate the whole ham and they also aid in easy slicing. For a full recipe, check out this Glazed Spiral-Cut Ham.
If you bought a fresh ham from your butcher, you'll want to give it a brine overnight, much like you would a whole turkey, and then continue on to cook it much like you would a traditional ham. The USDA recommends cooking raw hams to a minimum temperature of 145 degrees F. Check out Food Network Kitchen's Roasted Fresh Ham with Cider Glaze.
If you're carving a boneless ham, simply carve away with a sharp knife. If you're carving a bone-in ham, make thin slices of ham that are perpendicular to the bone (much like you'd slice a T-bone steak), then cut parallel to the bone to release the slices.