Here are five different techniques depending on how much garlic you need to peel.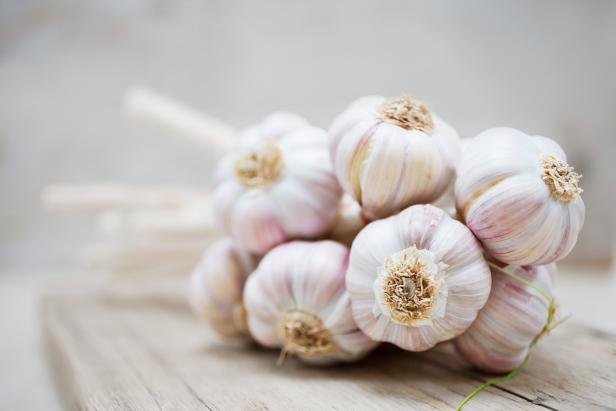 Garlic
Garlic and other members of the allium family contain compounds linked to cancer prevention. So bring on the garlic breath and add raw or cooked garlic to sauces, soups, marinades and roasted and sautéed vegetables.
Robert Daly; Getty Images
By Leah Brickley for Food Network Kitchen
Leah is a senior culinary editor at Food Network.
Freshly peeled garlic is 100% worth it, whether you're making pasta, pesto or pizza. Taking the time to free those pungent cloves from their papery jackets — instead of buying the jar of pre-chopped garlic — can make all the difference in the flavor of a recipe. But garlic knows it's that good and can be stubborn about coming out of its peels. Thankfully, there are several peeling hacks that can save you tons of time. Here are some of our favorite ways to make peeling less of a hassle.
How to Peel Garlic By Hand
When to Use this Technique
This method is great for preparing small amounts (read: one or two cloves) of whole or sliced garlic.
1: Use a small paring knife to cut off the root end of a clove.
2: Working from the stem end, use your fingers to peel away the skin.
How to Peel Garlic By Smashing It
When to Use this Technique
If a recipe calls for a small amount of chopped or minced garlic, then a chef's knife is the perfect tool. This method is also great if you need some smashed whole cloves for a sauce or braise.
1: Lay a clove of garlic on a cutting board and slice off the stem end.
2: Place the flat side of the knife on top of it, push down and apply pressure until you feel the clove smush. The skin will split apart around the clove of garlic.
3: Pluck the skin off the garlic — it'll come off in big, satisfying pieces.
Get the Recipe
Big Batch Garlic Peeling
02:24
Viv shares how to easily peel lots of garlic with just two bowls.
How to Peel Garlic with Two Bowls
When to Use this Technique
This method is a great party trick because it allows you to peel a large amount of garlic all at once.
1: Break a head of garlic apart into individual cloves. Slice off their root ends with a knife.
2: Transfer the garlic to one of the bowls.
3: Invert the other bowl onto the garlic-filled one so the rims are touching.
4: Hold both the bottom and top bowl firmly together and shake vigorously for about 20 seconds. Most, if not all of the garlic should have magically slipped out of their skins.
5: Give any stubborn cloves another shake.
How to Peel Garlic with a Cocktail Shaker
When to Use this Technique
Very similar to the two-bowl method, a cocktail shaker is a quick way to peel a small amount of garlic.
1: Add several cloves to the cocktail shaker and snap on the lid (you don't need the strainer).
2: Shake vigorously (like you are making a martini) and open to reveal peeled garlic.
3: (Wash and rinse your cocktail shaker and wipe the inside with distilled vinegar; no one wants a garlic-infused Manhattan.)
How to Peel Garlic with a Microwave
When to Use this Technique
Your microwave can do more than make popcorn or reheat coffee: it can make peeling an entire head of garlic in just moments possible.
1: Remove any excess papery skin from the head.
2: Take a thin slice of the top off to reveal the cloves.
3: Transfer the whole head to a microwave-safe plate and microwave on high for 20 seconds.
4: Let the head cool until you can easily handle it.
5: Pick up each clove and pop it out of its skin like you're removing a jacket. The cloves will be so easy to peel they'll practically fly out of their skin.
How to Store Peeled Garlic
Refrigerate peeled garlic cloves in an airtight container for up to a week.