How to Make Custom Cookie Butter
You can blend your own cookie butter in five minutes flat.
By:
Food Network Magazine
Good news for cookie butter fanatics: You can blend your own in five minutes flat. We ground up chocolate chip, snickerdoodle, peanut butter, oatmeal-raisin and chocolate-mint cookies, and all the spreads were tasty enough to give as a gift. (Not so successful: soft cookies and ones with jam or sprinkles.)
To make a batch, grind 2 cups chopped cookies in a food processor. Then, with the motor running, drizzle in 1/3 to 1/2 cup warmed canned coconut milk until the spread is smooth and thick. Gradually pulse in up to 2 teaspoons sugar, depending on the sweetness of your cookies. Keep refrigerated in an airtight container for up to 2 weeks.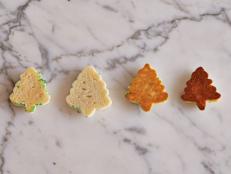 Butter Spritz Cookies are quintessential buttery bites that come together in just 23 minutes. The only special equipment you'll need for these sprinkled shapes is a cookie press.