Queen Elizabeth Is Releasing Her Own Line of Condiments
It will reportedly include a 'tomato sauce' and a 'brown sauce.'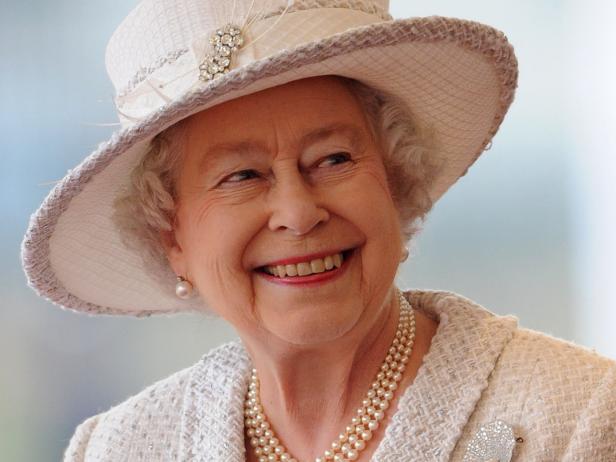 133919600
LONDON, ENGLAND - NOVEMBER 22: Queen Elizabeth II awaits the arrival of Turkey's President Abdullah Gul and his wife Hayrunnisa Gul at an offical welcoming ceremony on November 22, 2011 in London, England. The President of Turkey is on a five day State visit to the UK. (Photo by Paul Hackett - WPA Pool/Getty Images)
Would you like your food to taste like royalty's? You may soon have your chance.
Queen Elizabeth is reportedly releasing her own line of condiments, produced at her estate in Sandringham, Norfolk.
The two "Royal Estate" sauces will include a "Tomato Sauce" (a.k.a. ketchup) made with dates, apple juice and spices. It is, a source spilled to the U.K. Sun, which broke the royally saucy news, "ideal for breakfast or any time of the day." So you can live like a queen and splash it on your eggs and home fries in the morning and your burger at lunch or dinner.
It will also include a Brown Sauce that is "packed with vinegar and spices," the source told the Sun.
Brown Sauce, for those who don't know, is kind of like a tangy, vinegary steak sauce (sort of Worcestershire-ish, for lack of a better comparison), and people in the U.K. put it on everything from bacon sandwiches to fish and chips.
The most popular brand, HP, was invented by Nottingham grocer Frederick Gibson Garton in 1899 and sold to the Midlands Vinegar Company in 1903 and is currently made by Heinz. The HP moniker is said to stand for "Houses of Parliament;" rumor has it that, at the turn of the 20th century, the sauce was used in the restaurant there.
According to the brand, consumers snap up more than 28 million bottles of HP a year. So if the Queen's brand eats into that market even just a little bit, her sauce could be considered a royal success.
The Queen's sauces are expected to be sold under the Sandringham Royal Estate label at the estate's online shop, where her majesty also sells Sandringham Gin, Sandringham Golden IPA and a wide variety of preserves, chutneys, confections and teas.
"Many of our products are proudly made using ingredients from the wider Estate," the shop site boasts.
However, the Sun reports that some people are grumbling over the price of the sauces, which it has characterized as an "eye-watering £6.99 [about $9.48] for a 295g bottle, compared to 60p [about 82 cents] for [supermarket chain] Sainsbury's 460g version."
"If I'm paying £6.99 for a bottle of something I want wine in it," one Norfolk resident griped to the tabloid.
On the other hand, you could say it's a relatively small price to pay to eat like a Queen.