Can You Make a 'Pudding' Fit for Queen Elizabeth?
Calling all amateur bakers! Buckingham Palace wants your recipes.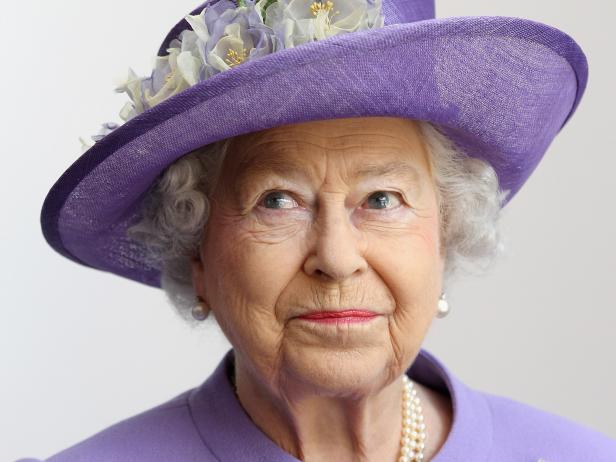 146317149
STEVENAGE, ENGLAND - JUNE 14: Queen Elizabeth II visits a new maternity ward at the Lister Hospital on June 14, 2012 in Stevenage, England. The Queen is on a two day tour of the East Midlands as part of her Diamond Jubilee tour of the country. (Photo by Chris Jackson - WPA Pool/Getty Images)
People mark momentous anniversaries in all sorts of ways. Queen Elizabeth is celebrating her next big one with "pudding."
And if you happen to know someone who lives in the U.K. with a pudding recipe suitable for royalty, they may be able to play a major role in Her Majesty's Platinum Jubilee celebration.
As part of the festivities around the British Monarch's 70th anniversary on the throne, "a nationwide competition has been launched to discover the perfect Platinum Pudding recipe, to be enjoyed at Big Jubilee Lunches and by generations to come," the Royal Family announced Monday on social media.
The "Platinum Pudding Competition" will be conducted under the auspices of upscale London department store, provisions purveyor and royal warrant holder Fortnum & Mason, which has invited people to compete to create the pudding that will be served as a "joyful and delicious" treat at "street parties and other celebrations" all over the country.
Open to amateur bakers ages 8 and up who live in the U.K, the competition will accept entries from now through February 4. The first round of judging will take place the week of February 7, with entries winnowed down over subsequent weeks until the five finalists are selected. Those five finalists will be invited to a live event, to be held the week of March 14, at which they will bake their recipe for an eight-judge expert panel, which will include Buckingham Palace Head Chef Mark Flanagan as well as food writer and chair of the judges Dame Mary Berry. The event will culminate in the announcement of the winner.
The winning pudding will be named after the Queen — and the person who makes it will be invited to play a key role in Jubilee celebrations. ("Everyone loves a Victoria Sponge but Her Majesty The Queen has never had a dish named after her … This is all about to change," the U.K. Government Department for Digital, Culture, Media and Sport noted in a tweet.)
Do keep in mind that a "pudding," in Brit speak, basically means "dessert." According to the competition guidance, said dessert can be "steamed or baked, layered or rolled, a pie or crumble, a cake or tart, the Platinum Pudding Competition is open to interpretation."
Entries should definitely be sweet — not savory — something that might be "served for afternoon tea or after the main course."
Flanagan shared a few tips on Twitter for those interested in entering. His advice? "Keep it simple. Don't try to include too many different flavors or textures [in] one dish. Think subtle and elegant, rather than fussy and overcomplicated" and maximize the "treat" factor by making the flavors of your pudding "sing."
Although the 70th anniversary of the Queen's ascent to the throne is February 6, the four-day Jubilee celebration — with music, parade, pageant and more — will take place Thursday, June 2, through Sunday, June 5.
"I'm so thrilled to be panel chair for this exciting competition to make the perfect pudding fit for the Queen, and to work alongside such a wonderful team of judges," Berry said in a statement shared by Fortnum & Mason. "I hope everyone who enters has lots of fun and I wish them the very best of luck."
Think you have what it takes to please the Queen? The proof will be in the pudding.