This Trifle Is "Special Enough" For Queen Elizabeth's Jubilee Celebration – Here's How to Make It at Home
An amateur baker's Lemon Swiss Roll and Amaretti Trifle has been selected as the 'Platinum Pudding.'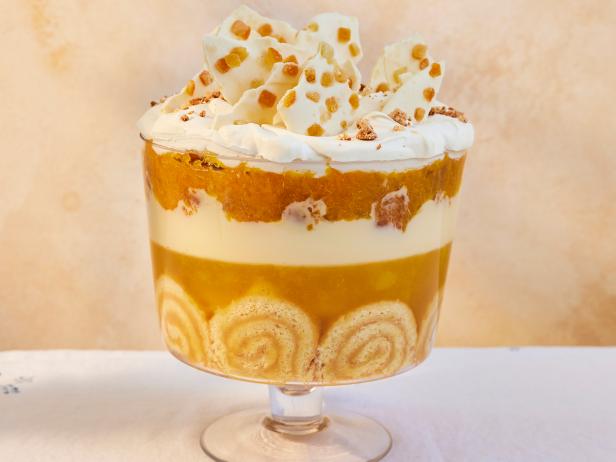 A winner has been crowned. A dessert fit for a Queen has been chosen. And a 31-year-old copywriter from northwest England has shown she is not to be trifled with.
The Duchess of Cornwall (a.k.a. Camilla, Prince Charles' wife) announced last week that a Lemon Swiss Roll and Amaretti Trifle made by Jemma Melvin had been selected as "Platinum Pudding," the official dessert of Queen Elizabeth's Platinum Jubilee celebrating her 70 years on the throne.
Melvin's elaborate seven-layer creation — which takes more than two hours to prepare and features lemon curd, custard, Amaretti biscuits and "Jewelled chocolate bark," among other delicious-sounding elements — beat out more than 5,000 entrants in a competition for talented amateur bakers in the U.K., announced in January, that set out to find "the perfect Platinum Pudding recipe, to be enjoyed at Big Jubilee Lunches and by generations to come."
The decadent dessert, which also bested four other finalists in the closely watched final round of the competition, is intended to be made and served by people throughout Britain at their own parties and teas held in celebration of Queen Elizabeth II's seven-decade milestone on June 2-5.
Melvin, who made several versions of the recipe before arriving at the one she felt was "special enough" to submit, says her trifle is actually "a tribute to three women."
"It's a tribute to my Gran, my Nan and the queen herself," she told Reuters. "My Gran taught me to bake … My Nan's signature dish was a trifle … And the queen had lemon posset at her wedding. So we put it all together."
If you're interested in putting it all together and whipping up the royally impressive-looking delicacy yourself, Fortnum & Mason has shared the recipe for the "crowd-pleasing summer dessert," which serves 20, here.