Time-Saving Recipes That Make Springing Forward So Much Easier
Get your hour back, people!
There's one day that I look forward to all year long: that one, perfect morning when I wake up before the buzzing of my alarm clock feeling well-rested and ready to tackle the day (because the fall daylight savings time adjustment granted me an extra hour of sleep).
In fact, for many of us, today will be the complete opposite of wonderful. We'll run late, yawn our way through important tasks and feel so much less productive than usual. Think being grumpy and fumbling your way through the week is your only option? It doesn't have to be! Counter the effects of "springing forward" with a super-quick meal (ready in 20 minutes or less) — and reclaim some of the time that you lost.
If you're looking forward to turning in a little early tonight and catching up on some zzz's then getting dinner on the table fast is key. Try Ree's hearty, family-friendly stroganoff — ready in just 16 minutes.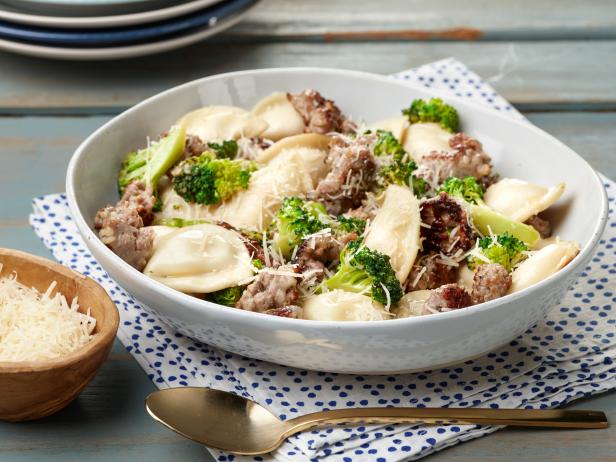 FNK_20_MinuteCrispyPierogiesWithBroccoliAndSausage_H
Chef Name: Food Network Kitchen Full Recipe Name: 20-Minute Crispy Pierogies with Broccoli and Sausage Talent Recipe: FNK Recipe: Food Networks Kitchen's 20-Minute Crispy Pierogies with Broccoli and Sausage, as seen on Foodnetwork.com Project: Foodnetwork.com, Beat the Clock Dinners / Thanksgiving Show Name: Food Network / Cooking Channel: Food Network
Renee Comet, 2013, Television Food Network, G.P. All Rights Reserved
The secret to this time-saving recipe is cooking the pierogies pot-sticker style: in a hot skillet. No waiting for water to boil!
Speedy and delicious, this Indian-inspired curry is ready in less time than it takes to order takeout (thanks to quick-cooking chicken tenders). Just simmer for a few minutes and it's done — and so flavorful.
There's nothing better than a 15-minute dinner, especially when it features cheesy polenta and savory Italian sausage (and is secretly loaded with lots of good-for-you veggies).
When you don't have lots of time to cook, reach for shrimp. It's ready in a flash — and the perfect addition to a crave-worthy, do-it-yourself taco bar.