Picking Safe, Sustainable Fish
Fish is healthy eats but when it comes to shopping for it, things can get confusing. Learn how to make the smartest (and most eco-friendly) choices.
No doubt, fish are healthy eats, but shopping for them can get confusing. Is this one full of mercury? Where did that one come from? Do I need to worry about overfishing? Farm-raised or wild? Here are some resources to help make the safest and most eco-friendly choices.
The Monterey Bay Aquarium's Seafood Watch program aims to help consumers make seafood choices that keep oceans healthy and their dinner plates safe. They identify sustainable fishing operations and offer many downloadable pocket guides for various parts of the country (different seafood is more accessible to different geographical regions). Some guides are available in Spanish as well as English, and you can even get downloads to your iPhone. They really make it handy.
The guides have an easy-to-read, color-coded system that lists seafood that's caught or raised in a sustainable manor and that's low in mercury and other contaminants. (They also have a stand-alone guide for sushi.) Choosing isn't all black and white -- there are so many varieties of seafood to try. To help narrow it down, start with your favorite fish or target your region.
Here are some examples from a couple of the 2009 guides:
Best Choices: Farmed Artic Char, Wild Alaskan Salmon, U.S.-Farmed Tilapia,
Good Alternatives: Mahi Mahi, U.S. Shrimp (farmed or wild), Lobster
Avoid: Atlantic Cod, Red Snapper, Imported Swordfish
Best Choices: Pacific Cod, U.S.-Farmed Catfish, Wild Pollock
Good Alternatives: Sea Scallops, US Shrimp (farmed or wild), Yellowfin tuna
Avoid: Monkfish, Orange Roughy, Imported King Crab
When at the market, check packaging for the country of origin or ask your fishmonger. You can also look for the Marine Stewardship Council (MSC) seal. The MSC certifies sustainable fishing operations throughout the country.
Sustainable fish recipes to try: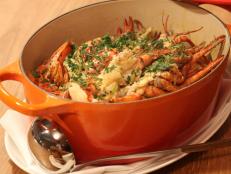 Get the pros' picks for their must-have menu items to make this tradition-steeped meal a memorable one.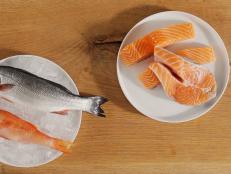 Follow these simple steps to pick and store fish properly.