10 Sauces to Dress Up Chicken Breasts
Tired of the same old roasted, grilled or baked chicken breasts? Transform your dinner from ho-hum to high-flavor with these 10 easy toppers for any occasion.
Claire's five-ingredient barbecue sauce is simple to make: just dump, stir and simmer until it's thick and tangy. Brush it on chicken before baking or grilling. You can refrigerate this sauce for a week or freeze it up to six months.
Add Italian flair to your chicken dinner with this basic pesto sauce: basil, Pecorino cheese, pine nuts, garlic and olive oil. Drizzle the rich sauce over chicken, pasta or veggies.
The sour cream in Alton's sauce balances with the spicy kick of the horseradish and the tart flavor of the white wine vinegar and Dijon mustard. Serve it with breaded chicken or chicken fingers, and store it in the fridge up to three weeks.
Lend chicken breasts some exotic flavor with this nutty sauce, flavored with spicy red curry paste and rich coconut cream. Drizzle the sauce over chicken, or serve it over lettuce or shredded cabbage for an Asian-inspired salad.
Bring Caribbean flavors into your kitchen with Ellie Kreiger's take on sweet-and-spicy mango salsa. Spoon over chicken for a fresh, light meal, then serve the leftovers with crunchy tortilla chips.
Butter sauce, or beurre blanc, is a classic French sauce that will add richness to any chicken dish. Sauté shallots in white wine, then whisk in lemon juice, cream and, of course, butter. The sauce is also delicious served atop steamed or roasted vegetables.
Take roasted chicken to the next level with Bobby Flay's Roasted Garlic Sauce: roasted garlic and shallots mixed with chicken stock and port wine.
Made from parsley, garlic, oil, vinegar and jalapeno, this classic Argentinean sauce is typically served with grilled meat but can also be used as a marinade.
This no-cook tomato sauce, made with chopped tomatoes, basil, Parmesan cheese and olive oil, is delicious over pasta, but it would also be delicious served over poultry for a rustic take on chicken Parmesan.
Apple, Onion and Cider Sauce
For a double-duty sauce and side, try this chunky apple, onion and cider version. Apple and red onion add sweetness, while apple cider vinegar lends tartness. It's the perfect way to turn simple baked chicken into something special.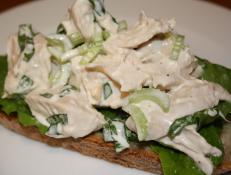 Store-bought chicken salad is far from a healthy option, with some kinds weighing in at more than 550 calories and 40 grams of fat per cup! Instead of the mayo-drenched take-out versions, try this fresh and light recipe – all it takes is 5 simple ingredients.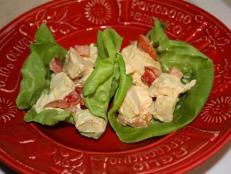 These curry chicken lettuce cups are full of flavor but not fat and calories. Add some crusty bread and you've got a light lunch or quick weeknight dinner.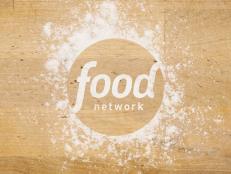 You're dying for some crispy and tender fried chicken but could do without all the fat and calories. Dana and Toby are going head to head, dishing up their lightened up versions of this famous finger food– weigh in on your favorite!