6 Clever Alternatives to Trick-or-Treating This Year
Your family can still have a spooky (and safe!) Halloween even if you're skipping the door-to-door routine — these creative ideas are super fun.
With this year shaping up to be spookier than Halloween itself, you might be considering other ways to celebrate the holiday that don't involve traditional trick-or-treating or attending a packed costume party. Same. That's why I chatted with Food Network staffers and some influential moms about their creative plans. Perhaps we can take a leaf or two out of their books and keep the Halloween spirit (err, ghost?) alive.
Hold a Halloween Candy Hunt and an Outdoor Movie Screening
"For Halloween this year we're filling plastic eggs with candy and hiding them for the kiddos to seek and find in the yard. Then we are setting up a big outdoor screen and projecting 'It's the Great Pumpkin, Charlie Brown' and passing out individual popcorn bags and mugs of hot cocoa for everyone."
- Leah Brickley, Senior Editor at Food Network
Bake Creepy Treats and Host a Virtual Pumpkin Carving Contest
"This year, we are staying in and will be baking up some fun Halloween treats. My thirteen-year-old is just fine staying in, but I plan to create a fun Halloween treats-filled night at home for my nine-year-old. Our plans include baking up some mummy and monster cupcakes and spider web cookies, having a Zoom pumpkin carving contest with our extended family in Texas, Minnesota and California, and we'll end the night with pizza and a movie night."
"When I was a kid, my mom always made me and my brother Halloween goodie bags — she would include our favorite candy, a Halloween-themed book and a special treat like stickers or a small toy. To be honest, I can't really remember specific trick-or-treating memories, but I always remember looking forward to my Halloween bag. It was so special and way more fun than a mountain of candy we could never finish!"
- Leah Scalzadonna, Associate Editor, Programming at Food Network
Create a List of Activities, Then Pick What Feels Right Closer to the Day
"As with so many things this year, we can't make definite plans for Halloween. Here are some of the ideas we're tossing around (instead of our usual tradition of wandering through crowded sidewalks and apartment buildings to trick or treat). One is creating a Halloween-themed snack platter as a family, and of course, Halloween-themed lunchboxes. Another is throwing a costume party on FaceTime or Houseparty. Or finally, cupcake decorating with Halloween candy."
Take Costume DIYing to the Next Level
"We plan to do a Halloween revamp of an Easter egg hunt, hiding a mix of candy and little toy treats for my 2-year-old son to find around the yard or inside the house, weather-dependent. But Halloween could very well be canceled if I can't deliver on my overly ambitious plan to sew his chosen costume — a two-toned blue dinosaur with spikes all the way down the back and tail."
- Erin Hartigan, Senior Managing Editor at Food Network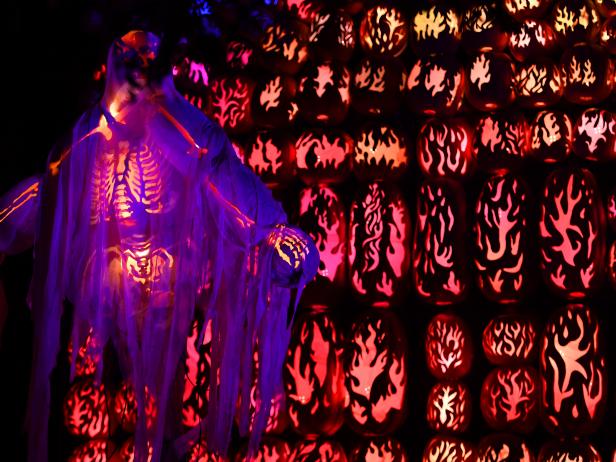 861609838
Illuminated pumpkins are on display during the Great Jack O'Lantern Blaze at Van Cortlandt Manor in Croton-on-Hudson, New York, on October 14, 2017. The Great Jack O'Lantern Blaze is for 45 evenings, including Halloween night and features over 7,000 hand-carved, illuminated pumpkins set against the mysterious backdrop of Van Cortlandt Manors 18th-century buildings and riverside landscape. / AFP PHOTO / TIMOTHY A. CLARY (Photo credit should read TIMOTHY A. CLARY/AFP via Getty Images)
AFP Contributor/Getty Images
Attend a Safely Organized Halloween-Themed Show
"My husband and I have always wanted to take our daughter to The Great Jack O'Lantern Blaze at Van Cortlandt Manor [a Halloween-themed event in New York that has limited capacity and taken a number of other COVID precautions this year] but the tickets sell out really fast. Since we needed an alternative to trick-or-treating this year, we made a point of looking into it much earlier — and were able to get tickets for Halloween night! We haven't told our daughter that we're going; it's a surprise! We'll have her dress up as usual and, when we get to The Blaze, we'll give her a bucket of treats — and let her sneak a few pieces of candy before we see the pumpkins!"
- Kristie Collado, Digital Programming Manager at Food Network