This Year's Cadbury Bunny Tryouts Contest Winner Is the Cutest Thing You'll See All Day
Lieutenant Dan will bring a smile to your face.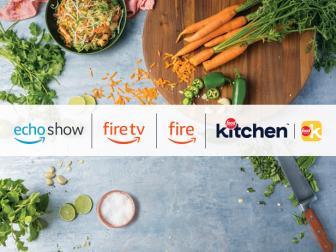 Download Food Network Kitchen to sign up and get access to daily live classes, thousands of on-demand cooking classes, in-app grocery ordering and so much more. Own a Fire TV, Fire tablet or Echo Show? You can now get a 1-year complimentary subscription to the app — read here for more details. Terms and conditions apply.
Looking for a little inspiration? A lesson in not just bouncing back from but seriously triumphing over adversity? Look no further than Lieutenant Dan, a heartwarmingly happy pooch with a winning smile. Like, literally winning. The two-legged Treeing Walker Coonhound from New Richmond, Ohio, has just been named the winner of Cadbury's Bunny Tryouts Contest.
The good boy, who can get around impressively well using only his two front legs (although he also sometimes does so with the help of a special canine wheelchair), beat out nine other finalists, selected from 4,000 pet entries nationwide. With the crown – er… bunny ears – Dan will star in this year's classic Cadbury Clucking Bunny Easter commercial.
Despite seriously adorable competition from the likes of Conswala the llama, Ducksong the mini pig and Lunchbox the cat, Lieutenant Dan nabbed the win after receiving more than 200,000 votes from fans over a two-week voting period. In addition to the honor of starring in the Cadbury Easter commercial, he will receive $5,000.