How to Make Your TikTok Baked Feta Pasta Just Right, According to a Recipe Developer
Hit this trend out of the park with a few simple tips.
We're sorry, there seems to be an issue playing this video. Please refresh the page or try again in a moment. If you continue to have issues, please contact us here.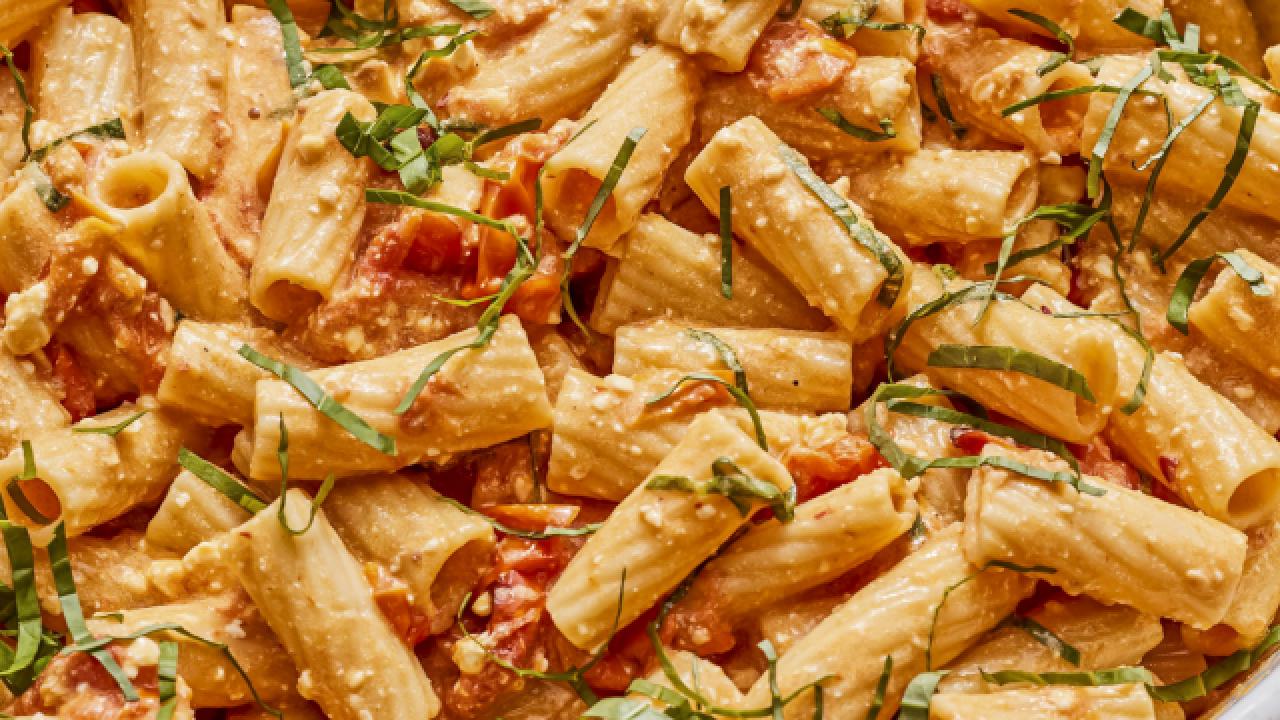 Whether you're an avid TikTok user or just a casual Instagram consumer, by now you've probably seen the baked feta pasta taking the social media world by storm. Finnish food blogger Jenni Hayrinen first created the dish back in 2019 (creating the hashtag #uunifetapasta), but it's easy to see why this recipe has achieved viral fame: Cherry tomatoes and a whole block of feta are baked until bursting and softened, then tossed with garlic, basil and tender pasta for a beautifully cheesy dish. With so many variations and rave reviews popping up around the web, we decided to give this recipe a try. Here's what we found to be some key tips and tricks to make this dish an overwhelming success — and how you can make our version of Baked Feta Pasta.
Don't Over Do It On the Pasta
A lot of TikTok videos show users making this dish with a whole pound of pasta. Resist the urge to use the whole box and just use 8 to 10 ounces. You want the baked tomato and feta sauce to coat the pasta nicely. Any more pasta will make for a dry dish.
Use a short pasta for this recipe, such as a rigatoni, penne or fusilli instead of long noodle like spaghetti or linguine. Short pasta will easily stir into the hearty sauce and be more enjoyable to eat. We particularly love how the sauce gets stuck inside the nooks and crannies of mezze rigatoni!
Once the pasta is finished boiling and just al dente, reserve some of your pasta water, then drain. A splash of this warm, starchy water will help loosen the sauce if it becomes too thick.
Make sure to buy a good-quality feta for this recipe, particularly because it's the main ingredient and flavor of this dish! We suggest using a medium or firm Greek feta made only from sheep's milk. Feta made from cow's milk tends to be crumblier and more sour in flavor compared to other varieties.
Don't be Afraid of the Amount of Oil
Not only does the olive oil prevent the tomatoes from burning, but it also helps to cook (or confit) the tomatoes, providing a smooth and rich mouthfeel. I promise, you want to use the full 1/2 cup!
Get Creative with Seasoning
We kept it simple with the seasoning, including salt, pepper, garlic and basil. However, feel free to add dried oregano or an Italian seasoning blend before baking for added flavor. However, avoid lemon juice, vinegar or parmesan, as this dish already has intense flavor and acidity.
Don't Forget to Season with Salt
The balance of salt is very important in this recipe; you can go from perfect to overly salted with just a couple extra granules. We suggest adding just a small amount of salt to the cherry tomatoes, then finishing the dish with a pinch of flaky sea salt. This will make your tomatoes and feta shine without over doing it.
TikTok-Inspired Baked Feta Pasta
Yield: 4 to 6 servings
Active Time: 20 minutes
Total Time: 45 minutes
Level: Easy
2 pints (20 ounces) cherry tomatoes
1/2 cup extra virgin olive oil
Kosher salt and freshly ground black pepper
One 8-ounce block feta cheese, drained
10 ounces mezze rigatoni
1 garlic clove, finely grated
Pinched, crushed red pepper flakes, optional
1/4 cup fresh basil leaves, thinly sliced
Flaky sea salt, for serving
DIRECTIONS
Preheat the oven to 400 degrees F.
Toss the cherry tomatoes and olive oil with 1/4 teaspoon of salt and several grinds of black pepper in a medium bowl until combined. Pour into a 2 1/2 to 3-quart baking dish. Place the feta in the center of the tomatoes, then season with a pinch of black pepper. Bake until the tomatoes have burst and the feta has softened, about 30 minutes. Raise the heat to 450 degrees F, then continue to cook until the tomatoes and feta are golden brown, 10 to 15 minutes more.
Meanwhile, bring a large pot of generously salted water to a boil over high heat. Add the pasta and cook until al dente, about 13 minutes. Reserve 1/2 cup of cooking water, then drain well.
As soon as the tomatoes and feta come out of the oven, stir in the garlic and red pepper flakes (if using). Use the back of a spoon to smash the tomatoes and feta into a smooth and creamy sauce (it's OK if some of the oil isn't fully integrated). Add the pasta and half of the basil until evenly coated. Add some pasta water, a couple tablespoons at a time, if the sauce becomes too thick. Taste and adjust the seasoning with salt and pepper. Top with the remaining basil and a pinch of sea salt for serving.