Anarchy in the Chopped Kitchen — Chopped After Hours
Catch an all-new episode of Chopped After Hours, where the judges cook with mystery basket ingredients from the show.
We're sorry, there seems to be an issue playing this video. Please refresh the page or try again in a moment. If you continue to have issues, please contact us here.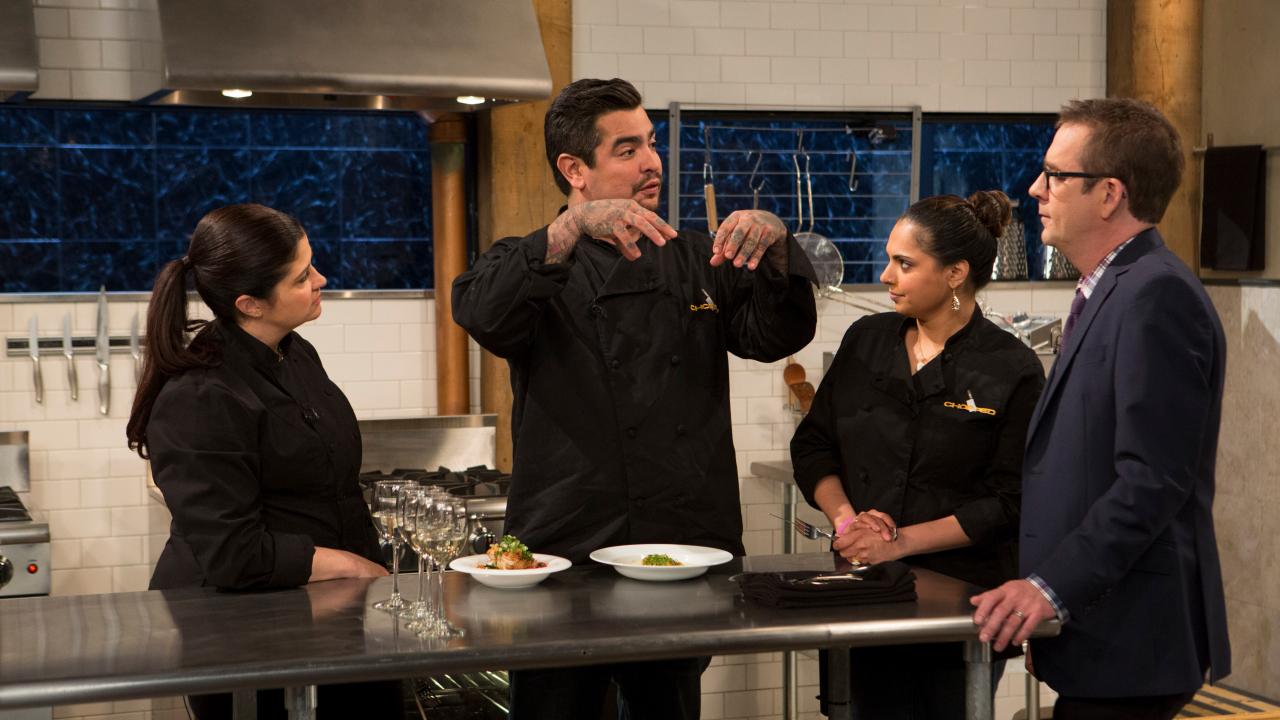 Normally, well-respected chefs would cringe at the thought of boxed macaroni and cheese, but the appetizer basket from the special Mac and Cheese episode of Chopped is a different story. "If someone doesn't use that little bag of powder in here, total cop-out — you're chopped," Alex Guarnaschelli says. In this new installment of Chopped After Hours, Alex — along with her fellow judges Maneet Chauhan and Aarón Sánchez — must make an appetizer using boxed mac and cheese, Canadian bacon, Swiss chard and monkfish.
Alex begins studding her monkfish with the bacon for flavor and plans on making a macaroni and cheese sauce for the dish. "I'm going full-on blasphemy and anarchy," she says of her dish. Aarón and Maneet are going a little more traditional, however. Aarón is making escabeche (a Spanish fish dish made with vinegar) while Maneet has envisioned the fish with a korma sauce (a traditional Indian nut-based sauce). When Maneet and Aarón realize they're both using saffron for their sauces, Aarón responds, "You've been saffroned."
Alex begins basting her fish in butter, and Ted asks if there's any risk of overbrowning the butter in the pan. "You won't because of all the water in the fish," she responds. With less than 10 minutes to go, they all begin to worry they might not finish. Maneet lists off all the things she needs to do and says, "I might just barely make it." When someone asks Aarón if he's going to finish in time, he replies, "If you stop asking me that!"
Click the play button on the video above to watch the entire After Hours episode and see the dishes Maneet, Alex and Aarón created. Then browse behind-the-scenes images for an insider's look at the cooking.
Start a conversation with fellow fans and tell FN Dish in the comments below how you would have approached this basket: What would you make out of boxed mac and cheese, Canadian bacon, Swiss chard and monkfish?
Catch up on past Chopped After Hours episodes by watching all of the Web-exclusive battles online.