A Helping of Holiday Leftovers — Chopped After Hours
Catch an all-new episode of Chopped After Hours, where the judges cook with mystery basket ingredients from the show.
We're sorry, there seems to be an issue playing this video. Please refresh the page or try again in a moment. If you continue to have issues, please contact us here.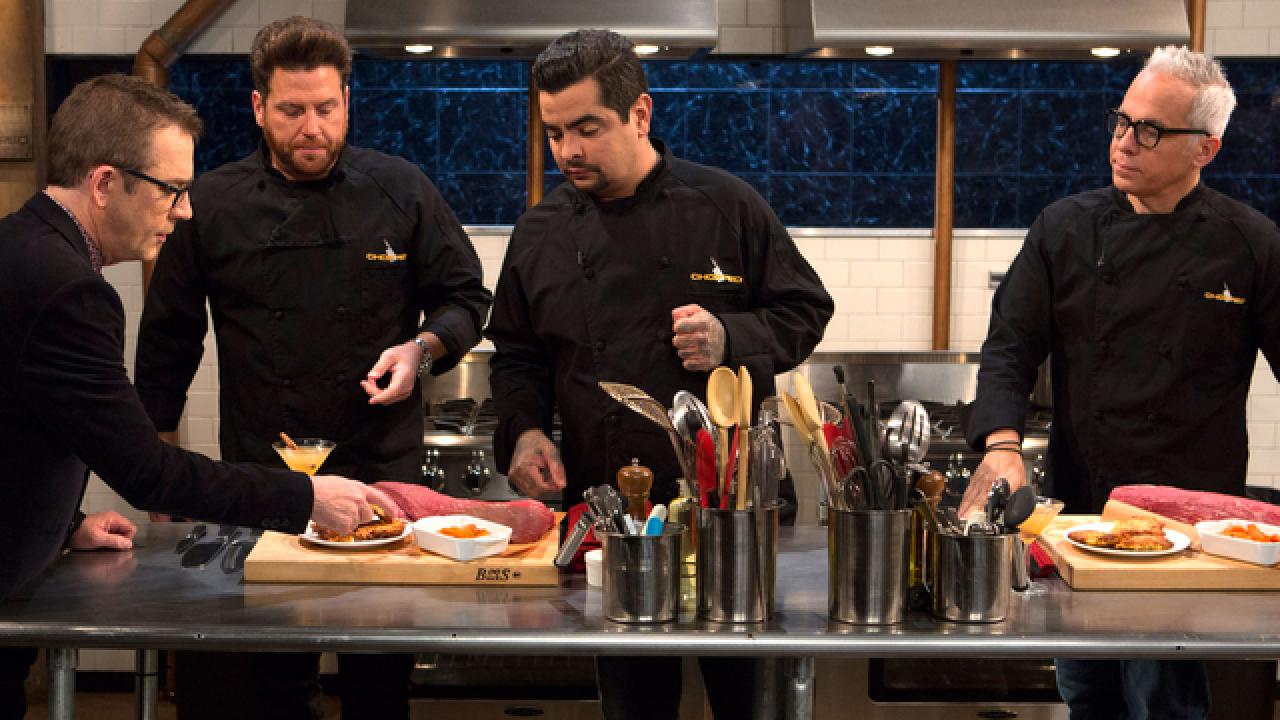 Everyone has leftover holiday food in the fridge after all the celebrations are over, and that's exactly what was in the mystery basket from the Holiday Cooking episode of Chopped. On an all-new Chopped After Hours, judges Scott Conant, Aarón Sánchez and Geoffrey Zakarian were tasked with creating an entree with beef tenderloin, gingersnap cocktail, potato latkes and tzimmes.
Scott pointed out that the basket presented some challenges off the bat because of the oily latkes. "Repurposing these latkes — it's always a challenge," he said. Aarón disagreed, saying, "Well, in the hands of a very talented chef, none of this could be troubling." Host Ted Allen pointed out that while it's a great cut, the beef tenderloin doesn't have a ton of flavor on its own. "For me, it means that's an opportunity to kind of just make it a nice, beautiful, uh … I gotta go — I don't got time for this!" Scott said.
With less than 10 minutes to go, Aarón asked if the medic was close by because he was about to use the mandoline. When the medic pointed out that he was a little shaky, he said, "I'm a little shaky. I don't have a drink yet — that's the problem." Geoffrey wasted no time, though, taking a shot before he started plating his carpaccio. "I'm living the dream down here," he said.
Click the play button on the video above to watch the entire After Hours episode and see the dishes Scott, Aarón and Geoffrey created. Then browse behind-the-scenes images for an insider's look at the cooking.
Start a conversation with fellow fans and tell FN Dish in the comments below how you would have approached this basket: What would you make out of beef tenderloin, gingersnap cocktail, potato latkes and tzimmes?
Catch up on past Chopped After Hours episodes by watching all of the Web-exclusive battles online.