When You Don't Have Eggs, Make Do with "Essence of Egg" — Alton's After-Show
Watch Food Network's Cutthroat Kitchen: Alton's After-Show hosted by Alton Brown.
We're sorry, there seems to be an issue playing this video. Please refresh the page or try again in a moment. If you continue to have issues, please contact us here.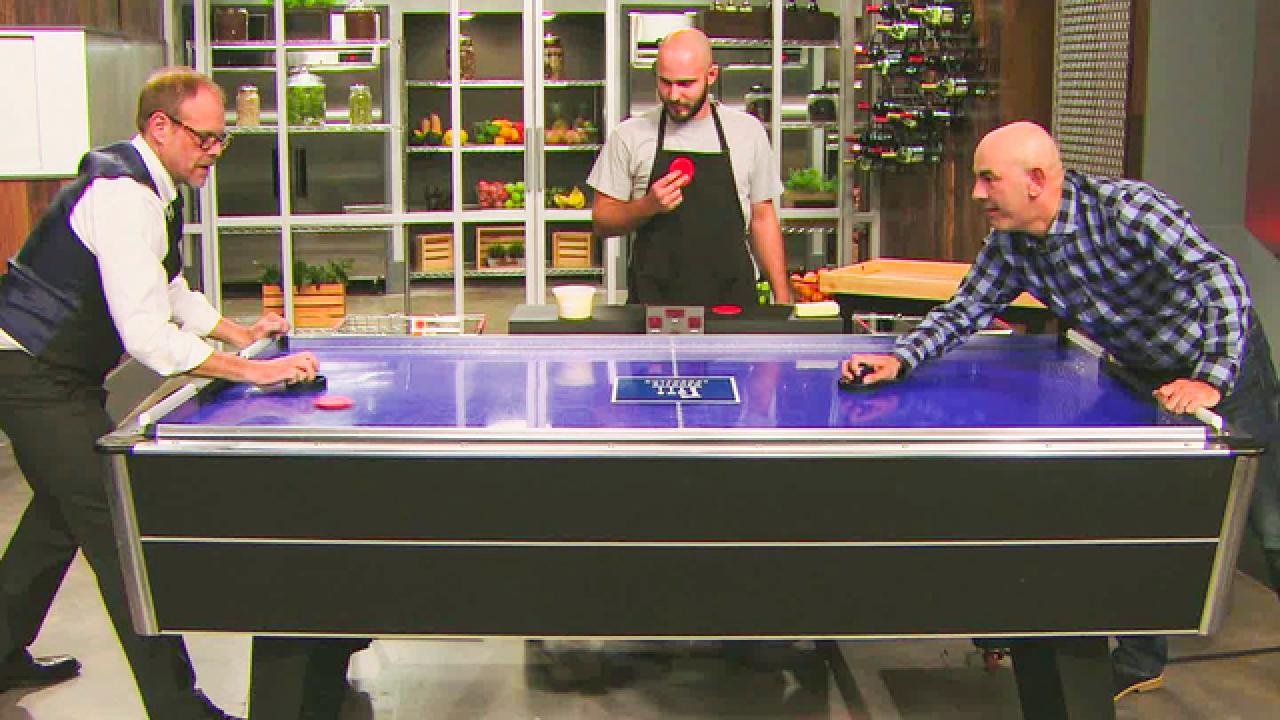 You know that Cutthroat Kitchen is all about the ingredient swap-out, often replacing chefs' quality meat, produce and dairy with lesser versions, all in the name of a good old-fashioned sabotage. Such a challenge was the name of the game in Round 2 tonight, when two chefs faced off in an air-hockey death match over nice and not-so-nice poutine ingredients. On the After-Show, host Alton Brown used the inspiration from that evilicious sabotage to challenge the judge of the day, Simon Majumdar, to a one-on-one battle over ingredients for scrambled eggs.
After a few back-and-forth swipes of the air-hockey puck, the score was settled and Alton and Simon were each saddled with two quality ingredients and two inferior ones. Alton was allowed to use a real pan and craveable cheddar cheese — instead of Simon's maple leaf-shaped pan and bold blue cheese — but he also was forced to use mayonnaise as the fat, and powdered eggs in place of real ones as the base. "This is disgusting," Alton declared as he attempted to whip the snow-white egg powder into a creamy, frothy mixture. "This doesn't even look remotely like an egg. What is this?" But despite his misgivings about the boxed stuff, which Simon first deemed "essence of egg," Alton forged ahead with his cheddar-stuffed scramble while Simon did his best to gingerly scramble his eggs in a sideless pan.
Believe it or not, though Alton's finished plate may indeed have lacked any real eggs, such a presentation was enough to please a Bob — if only for a suspected bribe from the host, that is. Click the play button on the video above to watch the evilicious shenanigans unfold as the on-hand Bob sampled both Alton's and Simon's dishes.