6 Movie Quotes Any Foodie Can Appreciate
You may not remember some of these one-liners from the silver screen, but you'll be able to enjoy a healthy recipe inspired by each.
"I'll have what she's having," the infamous line from When Harry Met Sally, might be one of the most-memorable food-focused quotes, but it's not the only one. And why not make your script revolve around eating? You may not remember some of these one-liners from the silver screen, but you'll be able to enjoy a healthy recipe inspired by each.
"I love him because he's the kind of guy who gets drunk on a glass of buttermilk ."- Barbara Stanwyck, Ball of Fire (1941) (pictured at top)
We can't promise this sherbet will induce a boozy effect, but we can guarantee you'll be hooked on its smooth texture and refreshing flavor. Using buttermilk in place of cream adds a slight tang while keeping the calorie count under control. Best of all, it's ready in just 30 minutes.
"Remind me to tell you about the time I looked deep into the heart of an artichoke ." - Bette Davis, All About Eve (1951)
Much like Bette Davis in her on-screen portrayal of an impassioned stage actress, you'll find yourself tangled up in a love affair with these dreamy lemon-roasted baby artichokes. Turn the simple side dish into a well-rounded meal by pairing the 'chokes with a tender fillet of salmon.
"Red wine with fish . That should have told me something." - Sean Connery, From Russia with Love (1963)
Drama erupts during the infamous dinner scene from this 1963 Bond film after villain Red Grant orders red wine with white fish. Later, when Grant makes his move to kill Bond, the secret agent declares he should have seen it coming based on Grant's unsophisticated order. If you're hosting an elegant dinner of your own, try Bobby Deen's delicate foil-cooked tilapia, simply seasoned with a little butter and lime juice. Just make sure you keep it classy by serving the fillets with white wine.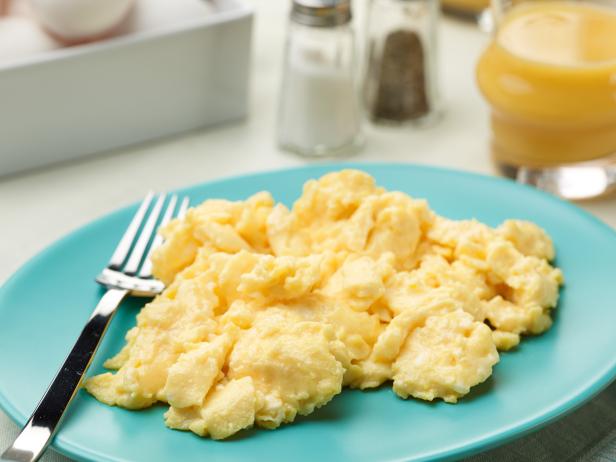 FNK_SimpleScrambledEggs_H
Chef Name: Food Network Kitchen Full Recipe Name: Simple Scrambled Eggs Talent Recipe: FNK Recipe: Food Networks Kitchen's Simple Scrambled Eggs, as seen on Foodnetwork.com Project: Foodnetwork.com, FN Essentials/Weeknights/Fall/Holidays Show Name: Food Network / Cooking Channel: Food Network
Renee Comet, 2013, Television Food Network, G.P. All Rights Reserved
"If my boy says he can eat 50 eggs , he can eat 50 eggs." - George Kennedy, Cool Hand Luke (1967)
Prison ringleader Dragline (Kennedy) defends newcomer Luke (Paul Newman) in this 1967 Oscar-winning drama when the young inmate claims he can eat 50 eggs in one sitting. While we wouldn't suggest this challenge (yolks do pack a fair bit of cholesterol), there's nothing wrong with enjoying a few eggs for breakfast now and again. Cooking over low heat ensures soft and luscious scrambled eggs, as you'll find in this recipe from Food Network Kitchen. At the end, stir in half a cup of your favorite shredded cheese for extra flavor.
"Sometimes spaghetti likes to be alone." - Stanley Tucci, Big Night (1996)
When customers demanding Italian-American fare can't understand why the spaghetti doesn't come with meatballs, restaurant owner Secondo (played by Tucci) defends the authentic menu, explaining that spaghetti sometimes "likes to be alone." We think the Italian-food expert would still appreciate a hearty plate of this whole-wheat spaghetti tossed with Swiss chard, Kalamata olives and toasted pine nuts, topped with freshly grated pecorino cheese.
"There's something wrong with this yogurt ." "It's not yogurt. It's mayonnaise." – Rhys Ifans and Hugh Grant, Notting Hill (1999)
Fresh yogurt is always a welcome treat ... unless, of course, it turns out to be mayonnaise, which is exactly what happens to William Thacker's (Hugh Grant) unruly roommate Spike in the 1999 classic Notting Hill. Go the extra stretch by preparing your own Greek yogurt from scratch (at least this way you'll know it's not mayo), and top the finished product with honey, dried fruit and walnuts for a snack that's sweet but surprisingly low in calories.