The Best Soy Sauce Substitutes
Dip into these swaps when you can't use soy sauce.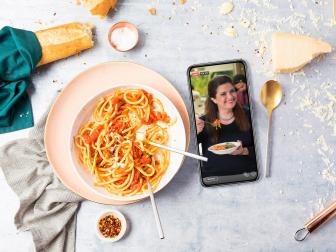 Download Food Network Kitchen to sign up and get access to live and on-demand cooking classes, in-app grocery ordering, meal planning, an organized place to save all your recipes and much more.
By Susan Choung for Food Network Kitchen
True story: You're about to cook dinner. You scan the ingredient list in the recipe and you have everyth — wait, nooo! What happened to that bottle of soy sauce that had definitely been in the cabinet? And what even happened to those little last-resort take-out packets that come with sushi? If you find yourself all out of soy sauce, you can still make the recipe work with a few smart soy sauce substitutes.
The easiest swap by far is tamari, which is basically soy sauce's gluten-free twin. Tamari has a richer, less salty vibe, but it can stunt-double for soy sauce in equal measure in practically any recipe. Low-sodium tamari is also a better option for those monitoring sodium. This is your best bet for dipping sauces, marinades and dressings.
No tamari on hand? The best next bet is to check whether you have other condiments that already contain soy sauce. These could include ponzu or teriyaki sauces hanging out in your fridge door or pantry. While not exactly the same, these premade sauces will do the trick in a marinade or stir-fry, with some adjustments. For instance, teriyaki sauce is sweeter and more syrupy than soy sauce so thin it out with a little water and cut back on other sweeteners in the recipe. Ponzu is also a little sweeter than soy sauce and has added citrus flavors so tweak the recipe accordingly for sweetness and acid.
The thing about soy sauce is that it's not just salty, it's fermented and brimming with umami. (That's the deep, rounded flavor you often find in broths, mushrooms and cooked meats.) So in a pinch, other umami bombs can step up to the plate. Try Worcestershire sauce or its funkier cousin, fish sauce. Maybe you have liquid aminos or coconut aminos from that time you went on a paleo kick? You can rehydrate some dried mushrooms in hot water then use that soaking liquid. You could make an even swap for soy sauce with any of these ingredients, except for saltier fish sauce, which you should use sparingly. All of these stand-ins work well in marinades, stir-fries and sauces.
No matter which route you take, remember to taste and adjust as you go. And hold on to those take-out packets of soy sauce, just in case.