What Is the Best Butter Substitute?
No butter? No problem. Here are the best ingredients to replace butter in nearly any recipe.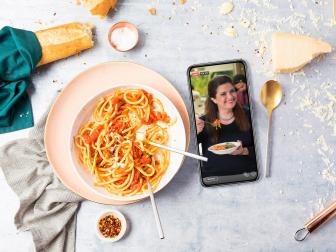 Download Food Network Kitchen to sign up and get access to live and on-demand cooking classes, in-app grocery ordering, meal planning, an organized place to save all your recipes and much more.
By Regan Cafiso for Food Network Kitchen
Whether you're baking a batch of treats or simply cooking dinner, butter is one of the most common recipe ingredients — and it's easy to understand why. It's creamy, rich and delicious. Just a small pat of butter makes just about anything taste better.
But if you need to find a suitable substitute in your recipes and baked goods — whether for dietary reasons or because you're all out of it at home — there are some great replacements. Choosing an alternate ingredient for butter really depends on what you're making. Here are our guidelines for selecting the best butter swap.
What Does Butter Do in Recipes?
Really, what doesn't butter do? It's a cooking medium, flavor enhancer, leavener and moisture-adding ingredient all rolled into one delicious yellow stick. Butter can be melted and used to saute veggies or as a base for flour-thickened sauces. In baked goods, its high fat content helps add and retain moisture. It also lends flakiness and lift to pastries and pie crusts, and lightness to cookies and cakes. And of course, we all know how good it tastes.
The Best Substitute for Butter as a Cooking Medium
For sauteing foods like chicken cutlets or vegetables, you can simply use an oil. Butter has one of the lowest smoke points of all cooking fats, so nearly any other oil works well. Because butter also adds flavor to these dishes, try a more flavorful oil like avocado or olive. For high-heat cooking like frying, however, always use an oil with a high smoke point like canola or peanut. In flour-thickened sauces such as gravy and bechamel, oil also makes a fine substitute. Swap the butter for oil using a 1:1 ratio.
The Best Substitute for Butter in Finishing Sauces and Custards
Some recipes are finished with butter — like pan sauces, reductions and cooked custards. In these recipes, the small amount of butter whisked in at the end adds body, flavor and a bit of thickening. You may be able to leave it out, or substitute a little heavy cream, creme fraiche or sour cream.
The Best Substitute for Butter in Baked Goods
Butter adds moisture to baked goods. If your recipe calls for melted butter, which is common in many quick breads, pancakes, brownies, blondies and some cakes, you can substitute an equal amount of neutral oil like safflower, canola or vegetable. If you want to experiment with flavors, try virgin coconut or olive oil. (You might even prefer it, like in these olive oil brownies.) Keep in mind that substituting oil in baked goods that require creaming softened butter and sugar together, like many cakes and cookies, yields a finished product that is flatter and denser than usual. This is because oil cannot hold the whipped-in air.
For a lighter option, fruit purees like applesauce or mashed banana can be substituted for some or all of the butter in many recipes. This is nice if you are looking to reduce your fat and calorie intake. But keep in mind that these purees are often quite sweet and might add a new flavor to your dish. You can experiment with which purees work best. In addition to applesauce and bananas, try pureed pumpkin, avocado or prunes.
What About Margarine or Vegan Butter Substitutes?
Margarine is a butter substitute made primarily from vegetable oils, salt and sometimes milk. Vegan "butters" are dairy-free butter substitutes made from plant-based oils and emulsifiers. They are created to mimic butter in both flavor and texture, and can both be substituted successfully in many cases. If you are making a recipe that requires creaming butter and sugar together or a recipe that is flaky and light, such as pie crust or biscuits, you are actually best off with one of these substitutes. Either will bake up into a lighter finished product than a dish made with liquid oil.
The Best Substitute for Butter as a Topping
Missing that pat of butter on your potato or toast? Choose another topping that's tasty and rich. For baked potatoes or other veggies, we love a drizzle of high-quality extra-virgin olive oil and some flaky salt — or just a dab of sour cream, plain yogurt or a sprinkle of cheese can do the trick. On toast, olive oil, coconut butter or other nut butters are delicious and satisfying.
Should You Use Salted or Unsalted Butter?
Generally, we prefer to use unsalted butter in most recipes because it allows control over the amount of salt in finished dishes. In a pinch, however, they are generally interchangeable. If using salted butter in a recipe that calls for unsalted, simply omit any additional salt called for in that recipe. In most baked items, you won't notice a difference. The exception is buttercream, which can taste a bit too salty when made with salted butter.