Why You Should Save Pasta Water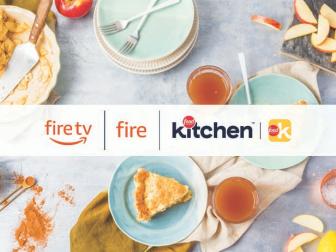 Download Food Network Kitchen to sign up and get access to daily live classes, thousands of on-demand cooking classes, in-app grocery ordering and so much more. Own a Fire TV or Fire tablet? You can now get a 1-year complimentary subscription to the app — read here for more details. Terms and conditions apply.
By Leah Brickley for Food Network Kitchen
Italian grandmothers know best — they've been saving pasta water since spaghetti was a thing. That salty, murky water adds three things to pasta dishes: flavor, body and cling. Let us explain how.
While your pasta boils in salted water it releases some starch (that explains the cloudiness), turning plain water into an unknown (until now) essential ingredient which acts as a unifier between pasta and its sauce.
Simple cacio e pepe (cheese and pepper pasta) would be lost without pasta water, which provides the body for the sauce and helps it cling to the pasta. The same is true for aglio e olio, another humble pasta dish made with garlic and olive oil — it would be overly slick and oily without the addition of starchy pasta water to coax the oil into an emulsified sauce. Pesto and penne are united in a delicious friendship thanks to the binding powers of pasta water. Sometimes sauces like meat-packed Bolognese need a little thinning out after simmering for hours, and pasta water helps loosen and flavor it without sacrificing body. Creamy carbonara sauce cools quickly; the addition of pasta water will rescue it from clumping.
And pasta water can support your culinary creativity: remember it when you need to bring leftovers or random ingredients together into a harmonious pasta meal — like this tomato, salami and smoked mozzarella pasta — fit for any Nonna.