McDonald's Adds Fans' Favorite Menu Hacks to Its Menu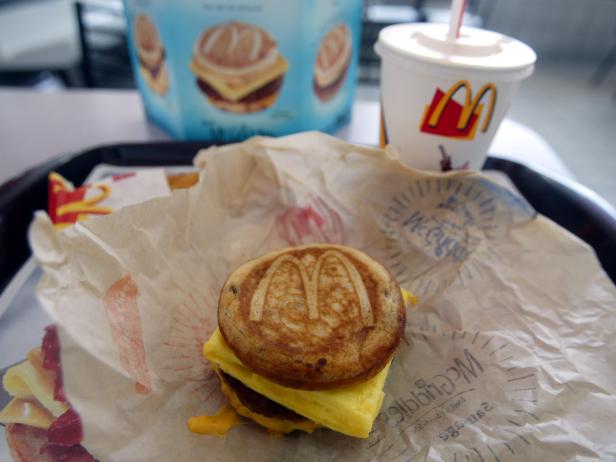 2076787
CORAL GABLES, FLORIDA - JUNE 12: A cheese, sausage and egg McGriddles breakfast sandwich at a McDonald's is shown June 12, 2003 in Coral Gables, Florida. The new McGriddles breakfast sandwiches are made to eat between pancakes, with maple syrup baked right in, and different combinations of sausage, crispy bacon, fluffy eggs and melted cheese in a sandwich. (Photo by Joe Raedle/Getty Images)
We may count on another fast-food chain for a "have it your way" tradition, but McDonald's has shown fans it's also open to customization and creativity.
It's not rare to see fast food fans sharing their favorite menu hacks on social media. This is true for everything from McDonald's McNuggets to Starbucks drink combinations.
Beginning January 31, McDonald's will be adding a variety of fan-inspired hacks to their menu for a limited time. These mashups will be available both in-store and via the McDonald's app, and involve some pretty fun combinations. But the most fun part of all is that these mashups will involve a DIY element, much like the fast-food hacks we see on social media. Anyone who orders one of the new menu hack mashups will receive the various menu items involved in their order, and then they get to build it on their own to create the final product.
Hash Brown McMuffin: This is, quite simply, stacking a Hash Brown on a Sausage McMuffin with Egg for a resulting extra bit of potato-driven crunch. This will be an option only available during breakfast hours.
Crunchy Double: Ever try putting Chicken McNuggets on top of your Double Cheeseburger? What about the other way around? Try it any which way, with the addition of BBQ sauce.
Land, Air & Sea: This is something like the TurDucken of fast food. It's a McChicken, Big Mac and a Filet-o-Fish combined into one wild sandwich. Depending on where you are, you may be able to get a Hot 'n Spicy McChicken involved in this scenario as a substitute for the traditional McChicken, making that combination all the more wild.
Surf +Turf: Finally, a Double Cheeseburger and Filet-o-Fish co-existing in one bite. This option is available only via the McDonald's App and McDelivery.
"From Hip-Hop icons to Christmas queens, everyone has a unique go-to McDonald's order, including our everyday customers. This campaign shows that it has never been 'our menu' — the menu belongs to our fans," said Jennifer Healan, Vice President, U.S. Marketing, Brand Content and Engagement for McDonald's USA, in a press release. "We're excited to celebrate them in a bigger way than ever before by putting their delicious hacks – as seen on social media – on our menus. I personally can't wait for our fans to try my favorite hack, the Hash Brown McMuffin."
Sign us up for a Crunchy Double A.S.A.P.