Woman Rides Horse Through a McDonald's Drive-Thru
Apparently it's not that uncommon?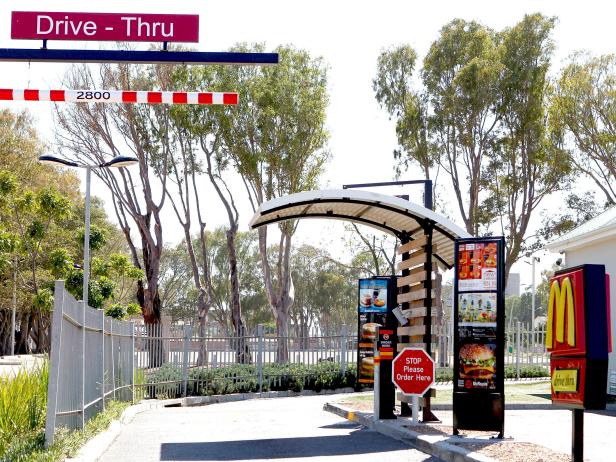 108683074
CAPE TOWN, SOUTH AFRICA - FEBRUARY 01: General view of the scene of the alleged incident, a McDonalds drive-through, opposite the Cape Town World Cup Stadium on the day when Lady Amelia Spencer was due to appear on charges for common assault on February 1, 2011 in Cape Town, South Africa. The 18-year-old daughter of Earl Spencer was involved in a row that errupted in a McDonald's drive-through, not far from her home in Cape Town in the early hours of December 22, 2010. Today however she was not seen arriving or leaving the court and it is thought that this was due to avoid the media. (Photo by Michelly Rall/WireImage)
Sometimes — and we probably don't need to tell you this on a Monday — you need your coffee and you need it now. Even if you're on your horse.
A woman in Borehamwood, Hertfordshire, an English town just a few miles north of London, apparently saw no reason not to remain in the saddle and queue up with the cars to ride her horse through the McDonald's drive-thru the other day, touching off great excitement in the British tabloids.
In an incident that has galloped through news outlets including The Mirror, The Sun, The Manchester Evening News and Bristol Live, a ponytailed, riding-booted, jeans-wearing young woman on horseback "stunned" drivers by lining up to place her order at the McDonald's drive-thru on what appears, in photos recording the incident, to be a misty gray day.
When it came time to place her order, the woman did dismount. But the horse seems to have wanted to continue to be a part of the fast-food-fetching action and "curiously poked its nose through the [pickup] window — either fascinated by mouth-watering aromas or looking for its nosebag," according to Bristol Live.
Eventually, the woman picked up her coffee, and strolled off — cup in one hand, phone in the other, casually chatting on the phone as she led her horse away.
"Whether she treated her four-legged companion to a bag of carrot sticks is between her, the server and the steed…," Bristol Live noted.
But some commenters reacting to that widely cited report saw nothing unusual about the whole thing.
"My daughter use to do things like this.. we lived 10 miles outside of town and when she took off on her horse she'd ride up to the window and order herself something to go," wrote one.
"Why not? Seems fair enough. Nice filly," another blasély opined.
And perhaps they're right. Just last month, a woman in Wales was spotted doing the same thing. She didn't even bother to dismount!
No point trying to top that …