Do You Dare Taste the Sauce? — Chopped After Hours
Catch an all-new episode of Chopped After Hours, where the judges cook with mystery basket ingredients from the show.
We're sorry, there seems to be an issue playing this video. Please refresh the page or try again in a moment. If you continue to have issues, please contact us here.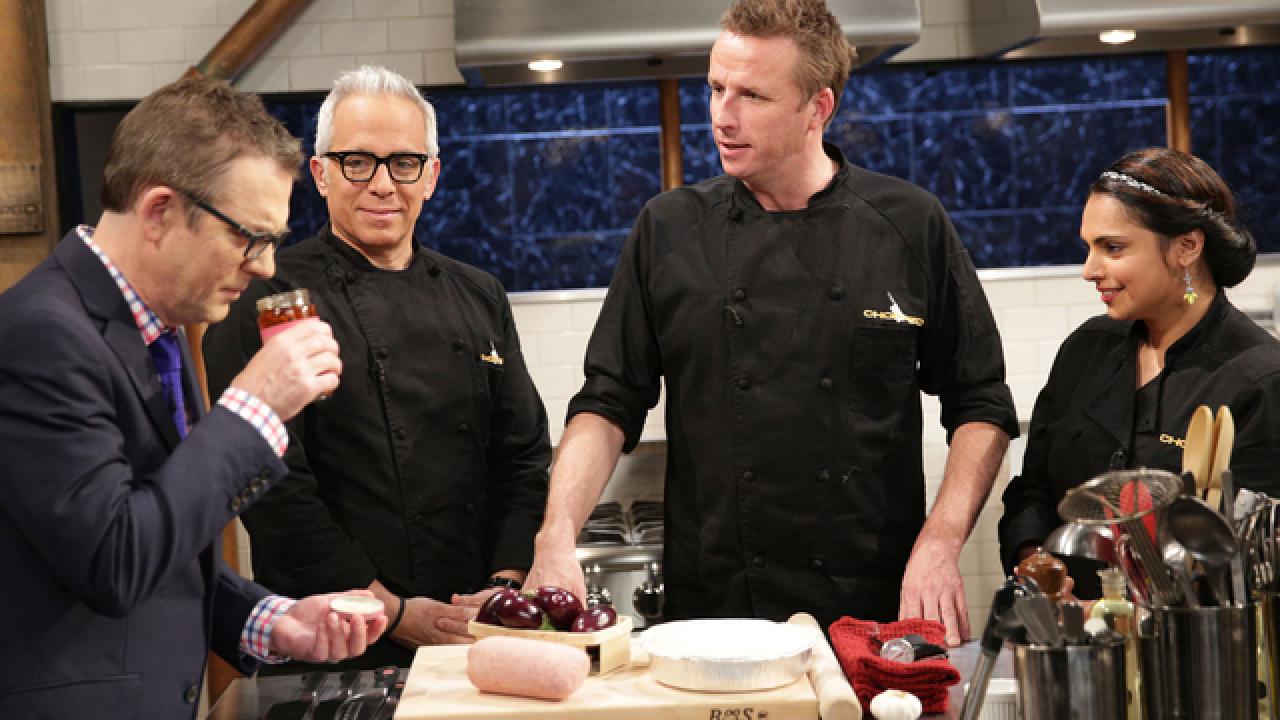 Tonight after the Family Affair episode of Chopped, judges Geoffrey Zakarian, Marc Murphy and Maneet Chauhan go into the kitchen to try out the appetizer basket in a new episode of Chopped After Hours. With just 20 minutes they have to cook with a pork roll, pizza dough, baby eggplant and Chinese spaghetti sauce. "Whatever that is," says Ted Allen about the jarred ingredient, which Marc promptly dares him to swig. But Ted refuses; instead he asks the judges, "Why don't you guys do your best to mask this flavor?" But the dares don't stop there, as we'll see in the episode.
"One hundred bucks to any of you who will taste that Chinese spaghetti sauce and then describe the flavor," Ted announces to the judges during the round. Geoffrey and Marc refuse, but Maneet readily takes a spoonful, describing it as mushroom-y and fermented. "It has a lot of scope for improvement," she tells Ted, who doesn't have the funds to pay up, so he asks Geoffrey. Maneet's the only judge who decides to fry the dough instead of make a pizza, saying making a pizza is not a very smart idea with just 20 minutes, but her fellow competitors are taking the risk. Geoffrey's making a calzone filled with a saluted mixture of the other basket ingredients, and Marc is making a grilled pizza with baba ganoush spread. "I chose something that was challenging, unlike two of my competitors," Geoffrey reasons while he stands in the kitchen waiting for his calzone to bake. Later Maneet tries again to get Geoffrey and Marc to taste the Chinese spaghetti sauce. "What is the first thing we tell all the people who are competing over here? To taste their ingredients," she tells them admonishingly. But as the two judges refuse, she goes over to Ted, who hesitantly takes a spoonful and then warns Maneet she has only three minutes to finish cooking.
Click the play button on the video above to watch the entire After Hours episode and see the dishes Geoffrey, Marc and Maneet created. Then browse behind-the-scenes images for an insider's look at the cooking.
Start a conversation with fellow fans and tell FN Dish in the comments below how you would have approached this basket: What would you make out of a pork roll, pizza dough, baby eggplant and Chinese spaghetti sauce?