This Gadget Is Our Secret to the Easiest Hard-Boiled Eggs
The Dash egg cooker takes all the guesswork out of making this breakfast staple.
Keep in mind: Price and stock could change after publish date, and we may make money from these affiliate links.
Hard-boiling eggs can be a process. Whether you're totally new to it, or if you love eggs but often find yourself too impatient to stand guard for the time it takes to hard- or soft-boil the batch, you're not alone. Correct timing can be tricky, and little hacks like when to add eggs to the water and using an ice bath before peeling can make all the difference. And, if you do happen to get your eggs just right once, it can feel nearly impossible to ensure they turn out just as well the next time.
In order to make the process easier and more reliable, many of our staffers and readers forgo the traditional way of boiling eggs and swear by the Dash Rapid Egg Cooker to churn out consistent results every time. Not only is it a huge time-saver for our busy, impatient souls wanting to meal prep hard-boiled eggs for the week, but it's pretty much foolproof.
This article has been reviewed since its original publish date for accuracy, pricing and availability. We stand by our egg cooker review.
When it comes to hard-boiling, the classic Dash Rapid Egg Cooker can hold up to six eggs at once (12, if you opt for the double-decker model) and is as simple as selecting your preferred cooking method and setting the timer. To make hard-boiled eggs, fill the bottom compartment with water and add the eggs, piercing a small hole in the top of the shell as you go. At the press of a button, you'll have perfectly cooked eggs sixteen minutes later. The auto-shut off function prevents overcooking, and the buzzer will alert you when your eggs are ready. Consistency is key, and this product will get you the same outcome each time. The company claims that it's so simple, even your kids can use it — and we think that's true save for the hole-poking.
Not a huge fan of eating hard-boiled eggs on their own? Luckily, they can be used for much more than a protein-packed on-the-go breakfast. Mix up delicious egg salad for sandwiches in no time, or try something new by turning soft-boiled eggs into Scotch eggs with a twist using Molly Yeh's recipe. If you love to set out a platter of deviled eggs during the holidays, this egg cooker makes the most tedious part of prep a breeze.
We're sorry, there seems to be an issue playing this video. Please refresh the page or try again in a moment. If you continue to have issues, please contact us here.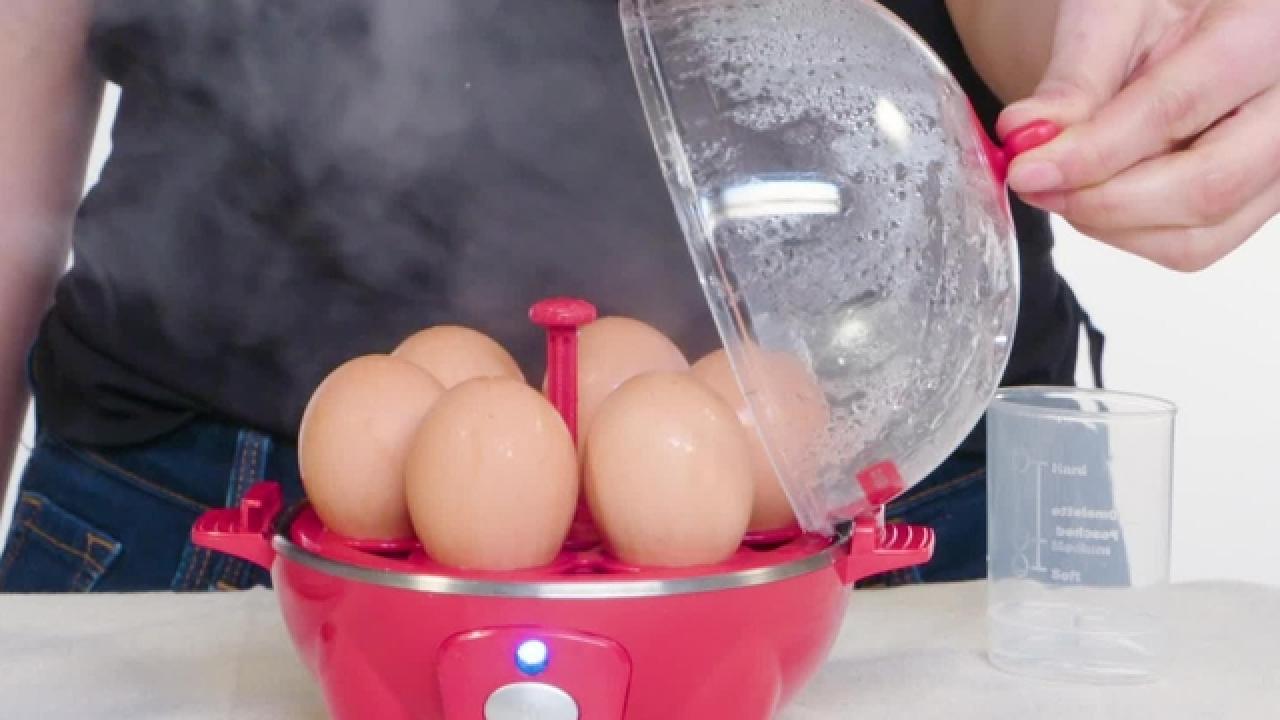 The Dash Rapid Egg Cooker Deluxe utilizes the same technology as the standard version, but it's a great upgrade if you're looking to hard-boil double the amount of eggs. Equipped with a second level, this egg cooker can hold 12 eggs at a time. The standard Rapid Egg Cooker weighs just about one pound, and the deluxe version is almost double the size. Both come with the same accessories, which includes a separate tray to make omelets and poached eggs, a measuring cup for water and a tool to puncture the top of your egg before boiling.
When it comes to storage, both are compact enough to easily fit inside cabinets, and all accessories can be stored inside the cooker to maximize space. All of the non-electric parts are dishwasher safe, making for an easy clean up. Plus, it comes in fun colors including red, yellow, black, white and blue to brighten up your kitchen!