When Thanksgiving Turns Into a Hot Dog-Eating Contest — Alton's After-Show
Check out the latest installment of Alton's After-Show, featuring judge Antonia Lofaso.
We're sorry, there seems to be an issue playing this video. Please refresh the page or try again in a moment. If you continue to have issues, please contact us here.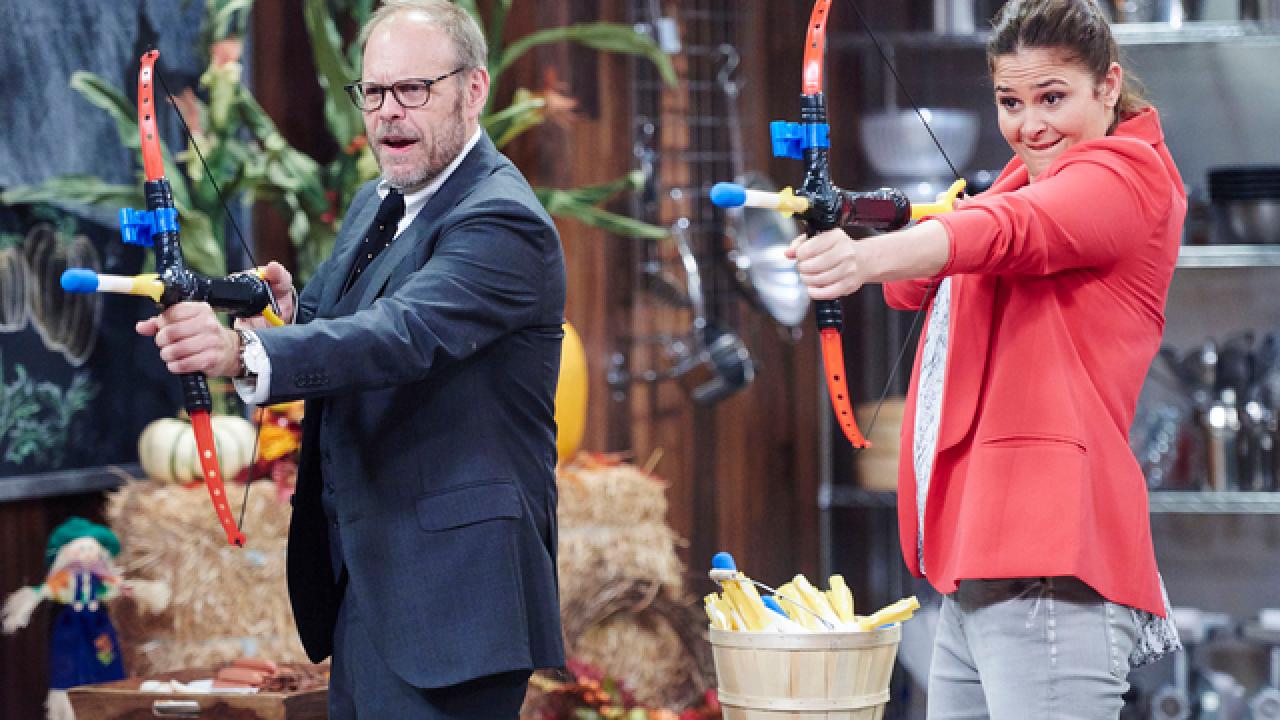 Though it was only one year ago that Alton Brown unveiled the now-infamous turkey suit during last fall's special Thanksgiving episode of Cutthroat Kitchen, the host took the holiday to the next diabolical level tonight when he made one chef hunt for his own turkey — so to speak. The name of the game in Round 2 was turkey tacos, but instead of using traditional ground meat, Chef Vitor was forced to grab his (Nerf) arrow and (plastic) bow and attempt to shoot one of three kinds of turkey meat: turkey pastrami, which was the tiniest turkey, on the top shelf; turkey hot dogs, on the middle level; and the biggest and perhaps least desirable turkey, the jerky, in the bottom row.
Though Chef Vitor spent precious time shooting for the turkey pastrami he craved for his dish, Alton told judge Antonia Lofaso on the After-Show, "I would want the turkey jerky." He explained after the duo tried their hands at the makeshift shooting range, "They're the biggest targets, so they're the easiest to hit and you'd have more time." For Antonia, though, it was all about scoring the turkey hot dogs, which Alton wasn't shy about tasting — straight up, on their own — after their friendly face-off. "Did you just [take a] bite of it?" Antonia jokingly asked the host. He challenged her to one more contest, but this time it was a self-sabotage battle. "You wrap up the show and I'll eat as many of these as I can while you're talking," Alton told Antonia as he prepped to shovel hot dogs into his mouth. As she signed off from the After-Show, Alton wasted no time in beginning his challenge, which ended just as you might expect.
Click the play button on the video above to see what happened when Alton challenged himself to a hot dog-eating contest.