Make Your Own Hot Chocolate Floats
We've got four "cool" ways to enjoy hot chocolate.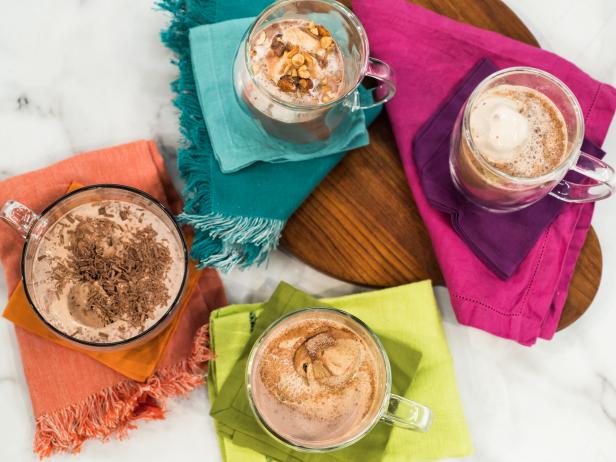 The Kitchen hosts make Hot Chocolate Floats: Jeff Mauro uses Peanut Butter Ice Cream and Honey Roasted Peanuts, Katie Lee uses Chocolate Chocolate Chip Ice Cream and Chocolate Shavings, Sunny Anderson uses Coffee Ice Cream and Cinnamon Sugar, and Geoffrey Zakarian uses Maple Walnut Ice Cream and Bourbon, as seen on Food Network's The Kitchen
Chilly weather begs for one drink and one drink alone--hot chocolate! We've created four new ways to sip on your favorite chocolate concoction.
Our first float is a classic flavor combo you'll go nuts for--chocolate and peanut butter! A scoop of vanilla peanut butter ice cream topped with honey roasted peanuts will give you that perfect pairing with an added crunch. Try adding peanut butter chips or candy pieces for extra texture and peanut butter power.
Next up, what could possibly make the creamy flavors of hot chocolate even better? The answer is more chocolate! Chocolate chocolate-chip ice cream with chocolate shavings on top makes this float a quadruple threat for the chocolate lover in us all.
Our next float has a spicy kick to it that gives new meaning to the name "hot chocolate." Adding a scoop of coffee ice cream and a dash of cayenne pepper and cinnamon sugar on top takes this mocha flavor south of the border. The heat from the cayenne is a great pairing with the rich chocolate from the drink.
The final float has another classic flavor combination with a boozy spin. We added maple walnut ice cream with a bourbon floater. The maple and bourbon bring the comforting flavors of a chilly day. You can always leave out the bourbon for the kids and this float will be just as delicious.
Enjoy these four "cool" new takes on hot chocolate all year round!