Dog Ice Cream Is Here to Make Your Pooch's Summer
Aldi is releasing an "ice cream style treat for dogs" and your pet pup's life may never be the same.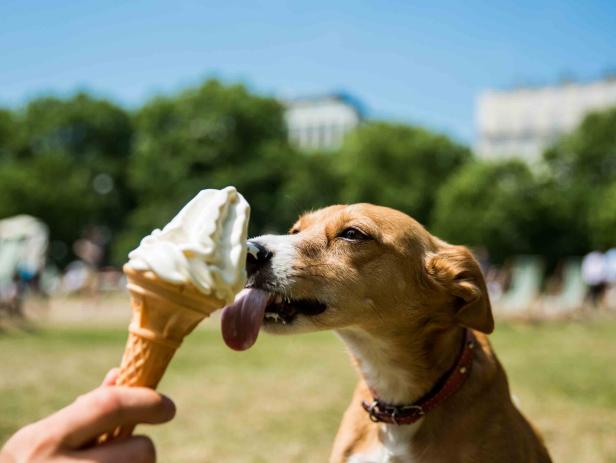 698521028
LONDON, UNITED KINGDOM - JUNE 20: Mini, a four year old Podenco dog from Portugal, cools down with an ice cream with her owner in Green Park on one of the hottest days of the year on June 20, 2017 in London, England. PHOTOGRAPH BY Adam Gray / Barcroft ImagesLondon-T:+44 207 033 1031 E:hello@barcroftmedia.com -New York-T:+1 212 796 2458 E:hello@barcroftusa.com -New Delhi-T:+91 11 4053 2429 E:hello@barcroftindia.com www.barcroftimages.com (Photo credit should read Adam Gray / Barcroft Images / Barcroft Media via Getty Images)
Picture this: It's a sweltering summer day and you're about to dig into a big bowl of ice cream. Then you glance over at your pooch, looking hot and parched and heartbreakingly plaintive. Oh, the guilt! It's almost too much to bear.
Now, thanks to Aldi, there's no need for you to feel self-conscious enjoying a bowl of frozen goodness while in the company of your canine BFF. The no-frills discount grocery chain has announced that its special, available-for-a-limited-time-only seasonal items for the week of June 23 to June 29, 2019 will include ice cream made especially for dogs.
Heart to Tail Dog Ice Cream – or Frozen Dog Treats, according to the packaging – comes in two different varieties: Original (whatever that is) and Cheese & Bac'n. (Don't worry. Your dog probably won't object to the dropped "o.")
Each box of four "ice cream style treat for dogs" – priced at $2.99 – contains two individual 3.5-fluid-ounce tubs of each flavor. Both flavors are gluten free and contain no artificial preservatives.
Because Heart to Tail Dog Ice Cream is being released as an "Aldi Find," it will be available only for a limited time – so thoughtful pet owners may want to stock up for the long, steamy summer ahead. Fido and Fifi will thank you … with a cool, dog-ice-creamy lick on the hand.
BTW, doggie frozen yogurt is also a thing. Awww. Who's a happy dog?!