All the Girl Scout Cookies I've Loved Before
Seven discontinued Girl Scout Cookies that should make a comeback.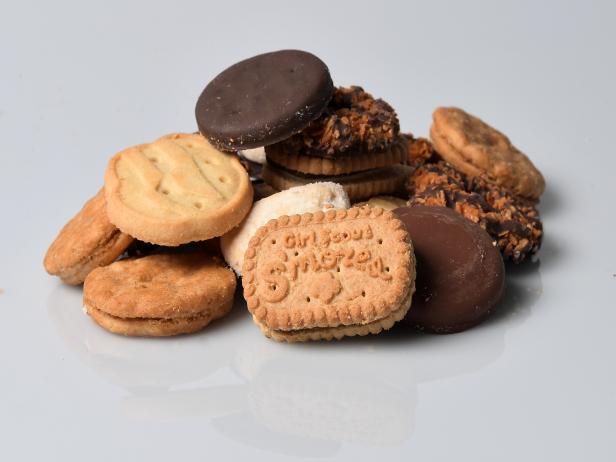 631589550
WASHINGTON, DC - JANUARY 11: The seven Girl Scout cookies available are the newest, Girl Scout S'mores, Samoas, Do-si-dos, Tagalongs, Trefoils, Savannah Smiles and top seller Thin Mints photographed January 11, 2017 in Washington, DC. (Photo by Katherine Frey/The Washington Post via Getty Images)
With the end of Girl Scout Cookie season approaching, it's time to stock up on Samoas and Tagalongs. Naturally, a lot has changed since the first troop started selling homemade butter cookies in 1917. In 1934, the Girl Scout organization turned to commercial baking, spawning off an entire line of branded sugary treats. But in the world of Girl Scout Cookies, not every recipe can enjoy the perennial success of Thin Mints (originally called Cooky-Mint) which disappeared during World War II due to flour, sugar and butter rationing, only to return as an all-time best-seller.
But what about the varieties that didn't stick around? Here are seven discontinued Girl Scout Cookies that deserve a second chance — and taste.
Often compared to a Kit Kat/Twix hybrid, Kookaburras were created by dipping a crispy rice wafer and layer of caramel into milk chocolate. Since they disappeared in the early '80s, nostalgic obsessives have been known to post copycat recipes online.
Juliettes (1984-85 and 1993-1996)
Named for Girl Scout founder Juliette Low, these cookies made a brief comeback after an even briefer introduction in the '80s. Consisting of a fudge coating and thick, gooey layer of caramel and pecans, Juliettes were almost more of a candy than baked good.
This short-lived cookie — chocolate chip with a hazelnut twist — had a small but devoted fan base. Washington Post journalist Bob Levey even wrote an opinion column about their demise. "I never sprang for any other flavor," he said. "Everything else is tied for second place."
Pre-packaged, 100-calorie snack bags reached peak popularity in the late 2000s, and the Girls Scouts stayed on trend with Cinna-Spins. But customers were looking for something more indulgent, and these health packs didn't last long.
Dulce de Leche (2009-2014)
Inspired by the classic Latin American dessert, these bite-sized cookies were packed with milk caramel chips. A victim of the economy, they continue to be missed by hungry fans.
Savannah Smiles (2011-2019)
The Girl Scouts often experiment with citrus-flavored cookies, and Savannah Smiles enjoyed a particularly long run. Dusted in powdered sugar and packed with lemon zest, they were named after Savannah, Georgia (where the Girl Scouts began) and the Brownie Smile song.