There Is Only One Correct Way to Store Girl Scout Cookies
It will totally change how you eat your Thin Mints!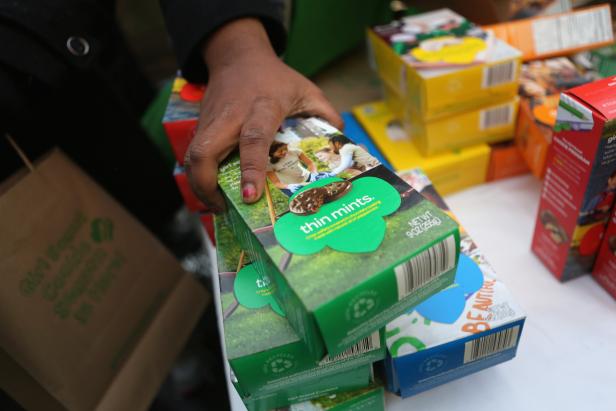 FN_Dish_girlscout-getty-images
NEW YORK, NY - FEBRUARY 08: Girl Scouts sell cookies as a winter storm moves in on February 8, 2013 in New York City. The scouts did brisk business, setting up shop in locations around Midtown Manhattan on National Girl Scout Cookie Day. (Photo by John Moore/Getty Images)
This year's Girl Scout cookie season is nearing its end, which means you only have a short amount of time to stock up on your favorites. Whether you reach for Thin Mints, Samoas or Trefoils, you can never go wrong when ordering any of the 12 iconic cookies. But, there is one area where you can go very wrong, and that is how you choose to store them. It all comes down to personal preference, obviously, but I do believe there is only one place that is acceptable to keep your Girl Scout cookies each year, and that is in the freezer.
I know I'm not alone with this opinion. It's practically a known fact that Thin Mints are best when chilled — just ask Kelly Parisi, the chief communications executive for Girl Scouts. In a Time article from 2015, she claims that frozen is, "the only way to eat them." But, you don't have to stop there. In my opinion, any other Girl Scout cookie that has a chocolate coating, including Samoas, Tagalongs, Thanks-A-Lot and Girl Scout S'mores, deserves space in your freezer. To some, the best part of biting into a frozen Thin Mint is the minty sensation that almost mimics freshly brushed teeth accompanied by a decadent chocolate flavor. But, for me, it's the fact that I get the best of both worlds. Let me explain.
I'm not a huge ice cream fan — I don't dislike it, but something about having that crunch to a cookie feels like a more substantial nightly treat to me. But, I also can't deny my occasional desire for a cold dessert. When you freeze Girl Scout cookies, the chocolate gets to the perfect texture — not so cold that it hurts your teeth, but just frozen enough to lend a good snap when you bite into it — and the inner cookie maintains its fresh, crunchy consistency without freezing through. Much like most things, storing in the freezer also helps maintain a fresh taste to the cookies, rather than the potentially stale taste they might develop in the pantry.
Whether you store them in the freezer in order to maintain their shelf life (a pro move considering Girl Scout cookie season only lasts about four months out of the year), or you just like to leave them in there to get an ideal taste and texture, it's safe to say you simply can't go wrong by serving your Girl Scout cookies chilled.