The 10 Best Thanksgiving Foods You Can Buy at Aldi
We've rounded up all the essentials you won't want to forget.
Keep in mind: Price and stock could change after publish date, and we may make money from these affiliate links.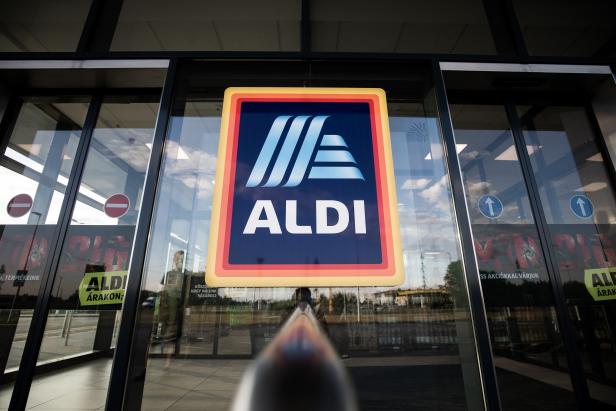 1154855954
A sign hangs at the entrance to an Aldi Stores Ltd. grocery store in Ullo, Hungary, on Monday, July 8, 2019. Aldi, known for its spartan approach to retailing, plans to make all of its private-label packaging reusable, recyclable or compostable by 2025, while cutting packing materials for those products by 15 percent over the same period. Photographer: Akos Stiller/Bloomberg via Getty Images
Download Food Network Kitchen now to take advantage of a 90-day free trial and get 25+ live classes a week, hundreds of on-demand cooking classes, in-app grocery ordering and so much more.
Grocery shopping for Thanksgiving doesn't have to be stressful — in fact, you don't even have to leave your house. If you're an Aldi die-hard, you can get all your grocery shopping done online and delivered to your house through Instacart — although we love a good stroll through the cereal aisle. We've rounded up some Thanksgiving essentials you won't want to forget this holiday season.
No matter what your opinions on this Thanksgiving staple are, it's hard to have your holiday meal feel complete without turkey. Opt for this 10-14 pound turkey, or upgrade to a slightly larger, 18-22 pound one.
Buy It
If you don't want to mess around with making your stuffing from scratch, Aldi has you a great boxed stuffing option to tide your family over this holiday season.
Buy It
Mashed potatoes are a pretty universal crowd pleaser during Thanksgiving dinner. Get your cooking prep on the right track by grabbing a bag (or two) of potatoes.
Buy It
Sure, rolls might not be the star of the show, but you'd be remiss to not include them in your shopping list.
Buy It
Don't be afraid to hit the frozen aisle this holiday season to make your Thanksgiving prep that much easier.
Buy It
All of your carbs and sweets need a little balance with a side or two of vegetables. Don't be intimidated by cooking Brussels sprouts, Food Network has you covered with plenty of delicious recipes.
Buy It
Whether you forgot to reserve the juices from your turkey or simply don't wan to bother with making your own gravy this year, Aldi has your gravy needs covered.
Buy It
If you have green beans on your Thanksgiving menu, we recommend grabbing these fried onions as a perfect topping.
Buy It
Grab a bag of sweet potatoes, as well — because a Thanksgiving dinner table can never have too many potatoes.
Buy It