Talking to the Experts: Fabiola Gaines on Soul Food
Good old soul food is famous for drowning in fat, salt and sugar. Thank goodness for soul food expert and registered dietitian Fabiola Gaines who tells us how to lighten up soul food without compromising taste.
Good old soul food is famous for excess fat, salt and sugar. Thank goodness for soul food expert and registered dietitian Fabiola Gaines, who told us how to lighten up soul food without compromising taste.
Several years ago, the American Diabetes Association asked my partner and I to sit in on a cultural diversity committee. They came up with this recipe card that wasn't appropriate for the African American population with type 2 diabetes-- the recipe was for sweet potato pie with raisins. In the typical African American cuisine raisins are not included in sweet potato pie. We became a critical part of choosing recipes for this project, and the American Diabetes Association asked my partner and I if we would be interested in writing the first African American cookbook. Both of our fathers died of complications from diabetes and the book is near and dear to our hearts. It was important that we show that soul food is not bad but needs a facelift.
Q: Could you describe what soul food is?
Soul Food is the food your grandmother and mother cooked for the family. It is food that brings you warm thoughts of home and family. Soul food is associated with the African American culture especially in the southern states. It also means great food that will "stick to your ribs," as my mother used to say.
Q: Which traditional soul food dishes may appear to be healthy but really aren't?
Collard greens with ham hocks, chitterlings and pig feet just to name a few. Collard green can be made healthier by using smoked turkey necks instead of the ham hocks. It will reduce the fat in the greens by over 50 percent. The chitterlings and pig feet should be eaten on a limited basis because of the amount of fat they both contain. In my family we usually eat chitterlings during Christmas or for special occasions. It is difficult to tell folks not to eat these foods because they are a part of the African American tradition. I would suggest limiting the frequency of their consumption and portion size.
Q: Soul food is one of the most mouthwatering cuisines I've ever tasted. What are some tips to lightening up this type of food and still keeping it tasty? What are some of the most requested dishes to lighten up?
It is important that we look at reducing the fat, salt and sugar in soul food dishes. The chronic disease rates are skyrocketing in the African American community and food is the culprit. Here are some tips we use in lightening up the soul food recipes.
Increase use of herbs and spices.
Use smoked turkey necks or breast in seasoning beans and greens.
Limit frying of meats. Try pan frying, grilling, baking and broiling instead.
We must get the African American population back in the kitchen to improve the overall health of our families. When we cook at home we know how much fat, salt and sugar we use in the foods we prepare.
Q: Many diabetics may be reading this article and think that they could never touch soul food without going off their diet. Could you explain how these recipes fit into a diabetic diet? Also, can non-diabetics use these recipes?
The recipes are made for the whole family but also fit into the meal plan for diabetics. Each recipe calculates the carbohydrates and for the old school diabetics the exchange list comparisons. We are teaching diabetics to carbohydrate count which will expand their food choices. By reducing the fat, salt and sugar in the cookbook recipes individuals can have healthier soul food that tastes great.
Q: Could you share with us one of your favorite recipes from your book.
My favorite recipe is Aunt Dorothy's Tea Cakes. This recipe brings me fond memories of my aunt. She was a wonderful cook and baker and I have a host of recipes she shared with me.
Preparation time: 20 minutes
1/2 cup reduced-fat margarine
1/2 cup low-fat buttermilk
Heat the oven to 375˚F. Cream the margarine and sugar together. Add ¼ cup egg substitute and mix well, then add another ¼ cup and mix well.
Combine the buttermilk and molasses. In a separate bowl, combine the dry ingredients. Alternately, add buttermilk and flour portions to the margarine mixture until all the portions are added.
Drop the batter by spoonfuls onto a nonstick baking sheet. Bake for 12-15 minutes.
Cholesterol: 0 milligrams
Total carbohydrates: 34 grams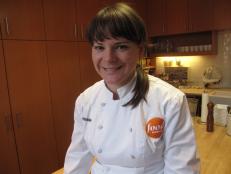 Get to know Leah Brickley, a recipe developer in the Food Network Kitchens who is also studying for a Master's degree in nutrition.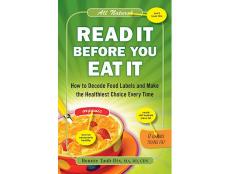 Want the inside scoop on label reading? We picked the brain of registered dietitian Bonnie-Taub Dix and author of the new book Read It Before You Eat It which helps to decode food labels. Check out her responses to Healthy Eats reader questions and find out the biggest mistake shoppers make!