Baking with Sugar Alternatives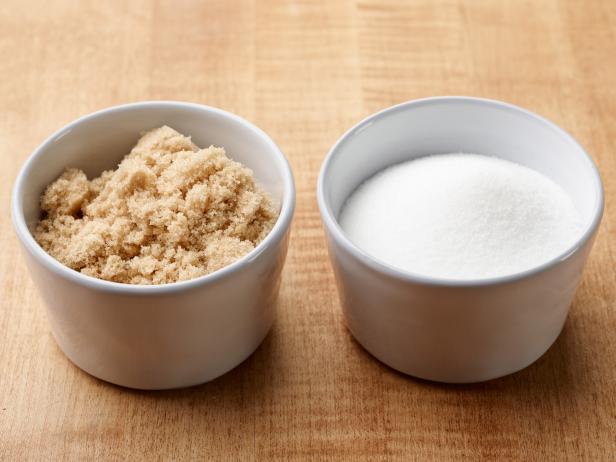 FNK_SimpleChocolateChipCookies_Tip_Sugar_H
Chef Name: Food Network Kitchen Full Recipe Name: Simple Chocolate Chip Cookies Talent Recipe: FNK Recipe: Food Networks Kitchen's Simple Chocolate Chip Cookies, as seen on Foodnetwork.com Project: Foodnetwork.com, FN Essentials/Weeknights/Fall/Holidays Show Name: Food Network / Cooking Channel: Food Network
Renee Comet, 2013, Television Food Network, G.P. All Rights Reserved
Sugar helps make baked goods puffy, golden brown and moist—but plain granulated sugar isn't your only option. Whether you're looking to cut calories, use fewer processed ingredients or simply change up the flavor, here are some alternatives.
Don't be fooled by brown and "raw" varieties of sugar—they're just as refined as plain old sugar. You might see them called "turbinado" or "cane sugar." Some of these varieties of turbinado and cane sugar may be slightly less refined, but not to a significant degree. They do have unique textures which make them good for light sprinkling on top of your goodies just before baking. Instead of the "white stuff," try honey, maple syrup, brown rice syrup or agave nectar for a more natural alternative. These options won't necessarily cut down calories (they contain virtually the same calories and most affect blood sugar the same way as regular sugar), but each offers a different flavor to cakes, cookies, breads and muffins.
A combination of maple syrup and honey works best for muffins and cookies; typically swapping out even amounts to replace sugar in a recipe will work. Agave nectar is also okay, but it makes baked goods less tender and does have a noticeably different flavor. When using agave nectar, use the same amount you would if you were using regular sugar, but add an additional 1/4 cup flour to the mix.
Sugar substitutes are another option, but they won't provide the same volume and tenderness as sugar or the options mentioned above. Some also have an unpleasant aftertaste when heated.
If you have a diabetic in the family, these replacements offer helpful sugar-free and calorie-free sweetness. But remember, most of these substances are chemicals and/or highly processed, so they're best consumed in strict moderation. If you're going to use them, be cautious with the measurements. Many artificial versions are much sweeter than sugar. Check the product's package or manufacturers' websites for measurements and use recommendations.
Here are some highlights on the most popular kinds:
Saccharin (a.k.a. Sweet'n Low): Use it in baking but beware of the strong aftertaste.
Sucralose (a.k.a. Splenda): Heat stable for baking; you can also replace half the sugar with Splenda or buy a blend of the two. Splenda also makes a brown sugar blend with 50% brown sugar, 50% sucralose.
Aspartame (a.k.a. Equal or NutraSweet): Not recommended for baking; use this for sweetening beverages instead.
Stevia: You can swap many of the new stevia products for equal parts of sugar in most recipes (always check packaging).
Learn More About Sugar Alternatives:
Dana Angelo White, M.S., R.D., A.T.C., is a registered dietitian, certified athletic trainer and owner of Dana White Nutrition, Inc., which specializes in culinary and sports nutrition.