How to Make Sangria Floats
By:
Food Network Magazine
Try a new take on sangria this summer: sparkling red wine poured over fruit sorbet. You can prepare it in about 30 seconds — no fruit chopping required. For these, we paired lambrusco (sparkling Italian red wine) with scoops of lemon, peach and orange sorbets. Try your own flavor combo or just drink the lambrusco by itself: It's the perfect wine for a cookout.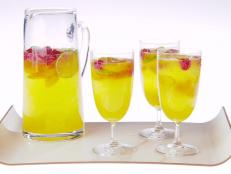 But the best thing about sangria is that the possibilities are endless. Get started with this roster of sangria recipes from Food Network.