Some clever tips for creating the best gingerbread house on the block, courtesy of The Kitchen.
Icing: Ice the gingerbread pieces before you assemble them, letting them dry in between.
Keep it simple! Pick a color scheme and draw all your decorations and details onto your house with icing. We used white, but you can pick whatever color you like best.
Snow: Use icing to make snow on the ground of your gingerbread house. Sprinkle clear sugar sprinkles on top to give it a little more sparkle. This also makes it easier to secure your walls to the base of your house.
Trees: Create trees out of grape stems, chocolate and puffed rice cereal. Use green food coloring to dye the puffed rice cereal green. Remove all the grapes from the stems, then cut down the stems if you need to, to make them the proper size for your house. Using floral wire, attach a skewer to the "trunk" end of each of your grape stems. Dip the "branch" end of the stems in melted chocolate to coat, then dip the chocolate into the puffed rice cereal to stick on the "leaves." Hang upside-down to let the chocolate set, then put the trees in your yard!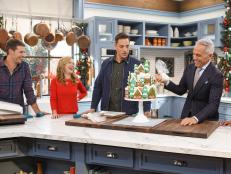 Gingerbread houses are great holiday fun, but even the most festive ones aren't usually very inviting as a dessert or snack. They tend to end up dried out and difficult to eat. At The Kitchen, we're taking the fuss out of gingerbread houses and making a version that's easier to assemble and easier to eat! And lucky for us, actress Angela Kinsey and her husband, baker Josh Snyder, stopped by to help us out!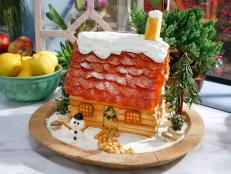 The holidays are filled with snowmen, cookies and, of course, gingerbread houses. At The Kitchen, we like to do things a little differently, so this year we're making a savory version of this holiday classic--it's The Kitchen's Cheese and Cracker House.